Trading on Target: How To Cultivate a Winner's State of Mind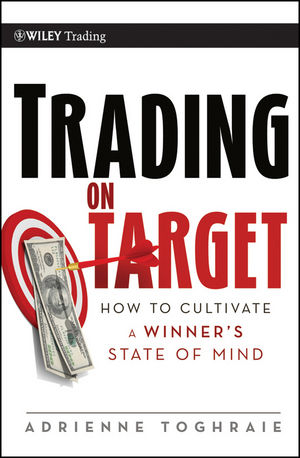 Trading on Target: How To Cultivate a Winner's State of Mind
ISBN: 978-1-119-20257-8
Sep 2015
239 pages
Description
A leading trainer of traders explains the process and pitfalls to trading success
While advances in trading tools and technology have increased the potential for capturing profits, the fact is that if you're mentally unprepared to enter today's markets, you'll probably end up making many costly mistakes. Nobody understands this better than Adrienne Toghraie, an expert Trader's Success Coach and master practitioner of Neuro-Linguistic Programming (NLP) for the financial and business communities. Now, with Trading on Target, she shares her extensive experiences—as well as the stories of real-world traders—to help you overcome the self-imposed limitations keeping you from reaching trading success.
Engaging and informative, this accessible guide takes a detailed look at what you need to become a psychologically, and emotionally, mature trader. Page by page, Toghraie pulls it all together and reveals the attitudes, perceptions, and insights that will allow you to excel at this difficult endeavor. Along the way, she also provides practical solutions to dealing with the oldest hang-ups commonly found among those who aspire to succeed in trading, and offers advice on how to gain and maintain self-discipline in today's dynamic markets.
Shows how to overcome the various obstacles to becoming a top trader
Explores how you can let go of emotional states that can affect your trading
Offers insights on taking the right action and making better trading decisions
Reveals how to expand yourself in order to reach the next level of trading success
Wherever you are in your ability as a trader, there is always room to grow. Adrienne Toghraie has seen this firsthand during her twenty-one years in the business of working on trader discipline. With this book, she'll help you develop a winning trading mindset and put you in a better position to break through the barriers that have been holding you back.
Foreword.
Preface.
Acknowledgments.
About the Author.
PART I Obstacles to Becoming a Top Trader.
CHAPTER 1 Mirror, Mirror.
CHAPTER 2 The Perfection Trap.
CHAPTER 3 Deep Freeze.
CHAPTER 4 The Price of Holding on to Your Stories.
CHAPTER 5 On the Right Track.
CHAPTER 6 Motivators for a Down Day.
CHAPTER 7 The Internally Motivated Trader Part 1.
CHAPTER 8 The Internally Motivated Trader Part 2.
PART II Letting Go of Emotional States.
CHAPTER 9 Letting Go of Fear.
CHAPTER 10 Letting Go of Resentment.
CHAPTER 11 The Greed Addiction.
CHAPTER 12 The Defensive Trader.
CHAPTER 13 Transformation of Feelings.
CHAPTER 14 Comfort in Pain.
CHAPTER 15 Don't Complain.
PART III Taking Right Action.
CHAPTER 16 The Momentum of Choices.
CHAPTER 17 Action Is the Bottom Line.
CHAPTER 18 Traders and Decisions.
CHAPTER 19 The Big Reveal.
CHAPTER 20 The Rules of the Game.
CHAPTER 21 Getting Back at the Markets.
CHAPTER 22 What a Difference a Day Makes.
PART IV Stretching and Expanding Yourself as a Trader.
CHAPTER 23 Learning Something Every Day.
CHAPTER 24 Stretching Your Trading Discipline.
CHAPTER 25 Thinking Large for Traders.
CHAPTER 26 Trading the Dream.
CHAPTER 27 Stretching Life to the Next Level of Success.
CHAPTER 28 The Happy Monkey.
CHAPTER 29 Shrinking from Opportunity.
CHAPTER 30 Drill to Focus.
PART V Modeling Top Traders.
CHAPTER 31 The Heart of a Master Trader.
CHAPTER 32 Top Performance.
CHAPTER 33 The Rite of Passage for a Professional Trader.
CHAPTER 34 Middle C.
CHAPTER 35 Passion.
CHAPTER 36 The Winner's State of Mind.
Extra Services: Trading On Target.
Index.