Traffic System Design Handbook: Timesaving Telecommunication Traffic Tables and Programs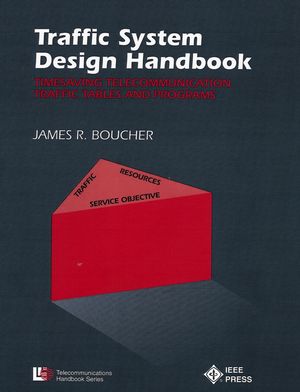 Traffic System Design Handbook: Timesaving Telecommunication Traffic Tables and Programs
ISBN: 978-0-780-30428-4
Nov 1992, Wiley-IEEE Press
200 pages
Description
A volume in the IEEE Telecommunications Handbook Series, this book is the one-stop source for the formulas and tables needed to design dimension switching systems and networks. It covers frequently used traffic formulas such as Erlang B (including alternate routing and Neal-Wilkinson peaked traffic tables), Erlang C, Binomial, and Engset along with practical examples to demonstrate how each is used. Computer programs are provided for those who prefer to do their traffic engineering on a computer.
Preface.

List of Tables.

Traffic System Design Overview.

Poisson Distribution.

Erlang B. Distribution.

Erlang C. Distribution.

Binomial Distribution.

Engset Distribution.

Definitions.

Glossary.

Selected Bibliography.

Index.