Trailblazers: How Top Business Leaders are Accelerating Results through Inclusion and Diversity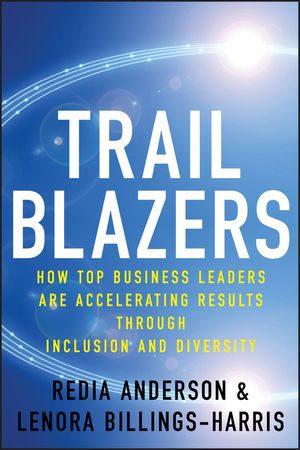 Trailblazers: How Top Business Leaders are Accelerating Results through Inclusion and Diversity
ISBN: 978-0-470-88110-1
Aug 2010
256 pages
Description
Make diversity your competitive advantage
To reap the full benefits of diversity and inclusion, today's forward thinking companies look past ""diversity"" training towards a more comprehensive, holistic business approach. These leaders incorporate diversity and inclusion into every aspect of business culture, employee engagement, talent management and market penetration.
Trailblazers reveals the practices, metrics and research, as well as the anecdotal evidence, for building and sustaining workplace cultures that make strategic diversity and inclusion a business necessity. Focusing on concrete actions you can implement immediately, this insider guide profiles the best practices award-winning companies have used on a sustained basis to transform their organizations.
Captures insights and best practices from the most effective Chief Diversity Officers, several of which are determined by the Diversity Inc Top 50 Companies for Diversity
Companies profiled include IBM, Dell, Verizon, Merck and Co, Sodexo, Verizon, Andrews Kurth, The Coca-Cola Company, American Airlines, Citi, Ford, Shell and Pitney Bowes
Covers everything from how to use employee resource groups to help target consumers and forge tighter client relationships; from talent optimization, leadership development and retention, to increasing middle management engagement and the skill-sets required for effective Chief Diversity Officers as true business partners and more
Trailblazers gives you an in-depth view from the inside out of which practical solutions make diversity and inclusion efforts a systemic and winning way of doing business for today's top-performing companies.
Foreword.
Acknowledgments.
Preface.
1 Meet the Trailblazers.
Michael Collins, American Airlines.
Elizabeth A. Campbell, Andrews Kurth, LLP.
Ana Duarte McCarthy, Citi.
Steve Bucherati, The Coca-Cola Company.
Gilbert "Gil" F. Casellas, Dell.
Kiersten Robinson, Ford Motor Company.
Ron Glover, IBM.
Deborah "Deb" Dagit, Merck & Company.
Susan Johnson, Pitney Bowes.
Francene Young, Shell.
Rohini Anand, PhD, Sodexo.
Magda Yrizarry, Verizon Communications, Inc.
2 The CEO's Role in Success: Commitment.
CEO Commitment Is Four-Fold.
Commitment Signals Importance.
Walking the Walk.
3 Trailblazers: Chief Diversity Officer's Role in Success.
Building, Collaborating, Leading, and Leaving a Legacy.
7.5 Critical Competencies of Effective CDOs
In Their Own Words—On Being an Effective Leader of Inclusion and Diversity.
4 Communicating the Vision.
A Variety of Communications Vehicles Are Required.
5 Accountability for Results.
Hard Impact from the "Soft" Stuff.
It Takes a Village.
Embracing Resistance.
Why Resistance Occurs.
6 Middle Managers: Much-Maligned Malcontents or Implementation Powerhouses?
Focus.
Road Maps and Milestones.
The "Numbas": Numbers and Metrics.
Performance Management and Recognition.
7 Changing the Culture Through Education: Why Diversity Training Doesn't Work—and How to Fix It.
The Myth about Inclusion and Diversity Training.
Training as a Tool to Reduce the Threat of Lawsuits.
Many Leaders Want to Follow the Path of Least Resistance.
How to Make Inclusion and Diversity Education Worth the Investment.
Including Education and Training Measures in the Audit.
One Size Does Not Fit All.
Develop Processes Your Leaders Will Use to Reinforce the Learning Immediately and Long Term.
Develop an Effective Evaluation Process.
Identify the Facilitators for Delivery of Inclusion and Diversity Efforts.
Evaluate All Company Training and Education from a Diversity Perspective.
Develop Scorecards for Diversity and Inclusion Training.
What Trailblazers Are Saying and Doing… .
8 Sticky StrategiesTM to Keep Your Pipeline Filled.
Finding the Right First Step.
Sticky StrategiesTM  That Work.
Mentoring, Sponsoring, and Coaching.
Succession Planning.
Representation Tracking.
9 Community Involvement and Social Responsibility: Is It Just Good Public Relations or Is There More?
Community Involvement: A Responsibility and Good Business.
Linking Diversity Efforts and Community Involvement.
Leading the Way through Supporting Professional Associations.
Building Bridges through Learning and Trust.
Engaging Employees for Increased Commitment.
Connecting to Global Communities.
10 Global Diversity and Inclusion.
Adopting a Global Mindset.
Technology and Global Diversity.
Differences Matter.
Inequality Is Global.
Generalize; Don't Stereotype.
Journey from Equal Employment Opportunity to Inclusion and Diversity.
Customers Exercise Their Choices.
Global Diversity and Talent Management.
Accelerating Results.
11 Marketplace/Brand Eminence.
Relationship of Inclusion and Diversity to the Marketplace.
Evaluations and Recognitions: Double-Edged Swords?
Making the Words and the Music Match.
12 And the Reseach Says… : Facts vs. Myths.
Introduction.
Are Leaders of Color the Best Leaders of Diversity Initiatives?
Deep-Level Diversity versus Surface-Level Diversity Perspectives.
Universities Employing Professionals of Color: What Are Their Results?
Strategic Priorities of Diversity and Inclusion.
Type and Extent of Diversity Activities.
Is It All about the Money for Employees of Color?
Are All Employees Sensitive to Diversity Climate Issues?
The Impact of Diversity on Climate for Employees of Color and the Outcomes.
Research Setting: U.S. Business Schools.
Research Summary.
13 Diversity and Inclusion Councils: Internal and External.
Strengthening Connectivity inside the Organization.
External Diversity Councils: Inviting the Outside In.
Fast-Forward.
14 Employee Resource Groups or Networks.
Networks for Business Advancement.
ERGs.
Types of Employee Resource Groups.
Chaired by Senior Management.
A Deeper Look at ERGs/Networks and D & I.
Rewards and Recognition.
A Question of Faith.
Tracking Employee Resource Groups.
More Than One Way to Achieve Results.
Budgets for ERGs.
A Word about Social Networking.
15 Supplier Diversity: A Strategic Procurement Choice.
First Tier, Second Tier—Where to Focus?
Supplier Diversity at Its Core.
Does Supplier Diversity Translate into Results for the Business?
Opportunity Is the Key Word.
Reaching Out to Diverse Suppliers.
Defining Goals within a Company.
Measures of Success.
Appendix: Study Methodology and Samples.
Notes.
Index.