Train Your Dog Like a Pro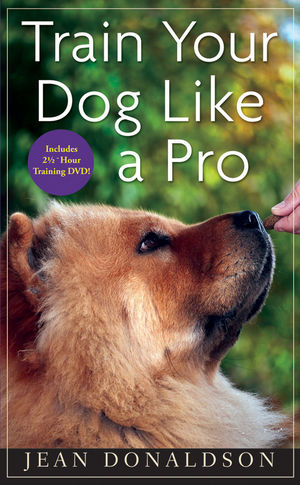 Train Your Dog Like a Pro
ISBN: 978-0-470-61616-1
May 2010
224 pages
Product not available for purchase
Description
The tools you need to think and train like a professional
Jean Donaldson is one of the top dog trainers in the United States, and her training academy has gained a reputation as the Harvard for dog trainers and behavioral counselors. Now, you can harness her highly effective dog-training techniques and benefit from her expert guidance without leaving your home.
If you're like most dog owners, you treat your four-legged friend as a valued member of the family who enjoys the full run of the house-which is why good behavior is so important. Train Your Dog Like a Pro offers a trusted, systematic approach to positive dog training that anyone can follow. You'll get clear, detailed instructions for teaching essential behaviors, more advanced skills, and even some fun tricks. Plus, a bonus DVD shows you exactly how to accomplish each technique.
Bonus DVD contains 2 hours and 30 minutes of hands-on instruction
Training is based only on positive reinforcement, patience, and persistence
Donaldson is the best-selling author of The Culture Clash: The Revolutionary New Way to Understanding the Relationship Between Humans and Domestic Dogs
Whether you're the proud parent of a puppy, an adolescent, or an adult dog, this book and DVD truly give you everything you need to train your dog like a pro.
Note: CD-ROM/DVD and other supplementary materials are not included as part of eBook file.
About the Author.
Acknowledgments.
Introduction.
What Makes a Trainer?
My Agenda.
My Perseverance Sell-Job.
The Not-So-Awful Truth about Motivation.
Basic Rewards for Installation.
Upping the Degree of Difficulty Systematically.
Outline of the Program.
Part One: Fundamental Behaviors.
Chapter 1: Sit and Watch.
Sit.
Watch.
Chapter 2: Down.
Down.
Down from a Stand.
Sit from a Down.
Chapter 3: Come.
Chapter 4: Some Help if You're Struggling.
First Aid.
Naughtiness (On Your Part).
Getting a Pro on Board.
Part Two: Impulse-Control Behaviors.
Chapter 5 :Sit-Stay and Down-Stay.
Sit-Stay.
Down-Stay.
Chapter 6: Wait and Leave It.
Wait.
Leave It.
Chapter 7: Walking on Leash.
Walking on Leash Exercises.
Walking on Leash Outdoors.
Part Three: Maintaining and Improving.
Chapter 8: Mixing It Up.
Position Discrimination.
Fun Discrimination Exercises.
Chapter 9: Taking It on the Road.
Transfer Training Responsibilities.
Change Training Locations.
Chapter 10: Social Applications.
Sit to Greet.
Food and Items on Tables.
What's a Toy and What's Off Limits.
Management During Training.
Begging and Attention Seeking.
Chapter 11: Consolidation and Maintenance.
Everyday Opportunities for Behavior Maintenance.
Part Four: Advanced Behaviors.
Chapter 12: Heeling.
Training Heeling.
Chapter 13: Mat Training.
Down on Mat.
Mat Training with the Clicker.
Mat Targeting.
Chapter 14: Retrieve.
Shaping the Dead Retrieve.
Dead Retrieve with Position Feeding.
Presentation into Your Hand.
Chapter 15: Sit Pretty and Roll Over.
Sit Pretty.
Roll Over.
Appendix: How Training Works: An Overview.
Get the Behavior!
Fade Your Prompts.
Take It on the Road ("Generalization") and Name It.
Consolidate, Maintain, and Protect.
Glossary of Animal Training Terms.
Index.