Training For Dummies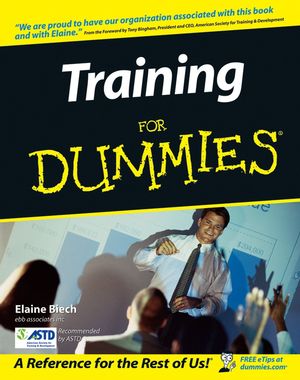 Training For Dummies
ISBN: 978-0-471-75096-3 July 2005 416 Pages
Download Product Flyer
Download Product Flyer
Download Product Flyer is to download PDF in new tab. This is a dummy description. Download Product Flyer is to download PDF in new tab. This is a dummy description. Download Product Flyer is to download PDF in new tab. This is a dummy description. Download Product Flyer is to download PDF in new tab. This is a dummy description.
Description
Millions of Americans have to train others as part of their jobs. Whether you're an employee training your co-workers on a new process or skill, a volunteer asked to train new volunteers, a chef training your staff, or a paramedic giving CPR training, it's just as important to know how to teach others as it is to know what you're talking about. It doesn't matter how much you know about your subject if you can't share it with others.
Fortunately, Training For Dummies offers all the nuts and bolts of training for anyone who has to educate others on any subject and in any field. It covers all the modern, interactive instructional methods and dynamic training approaches available and helps you get trainees inspired, involved, and enthused. Training For Dummies will help you:
Keep it interesting so trainees learn more eagerly
Master the jargon of training
Use audio and visual aids effectively
Prepare for the training certification process
Evaluate your results and improve your tactics
Elaine Biech, President and Managing Principal of Ebb Associates, Inc., and known as "the trainer's trainer" shows you all the tips and tricks of the trade. Based on her long experience as a trainer and her work for clients such as the IRS and many Fortune 500 companies, Biech helps you discover:
Tips, techniques, and tidbits for enhancing your training sessions
Methods that improve trainee participation
Alternatives to the traditional lecture method
Tactics for gauging and managing group dynamics
Strategies for addressing problems in the classroom
Hints for understanding and adapting to different learning styles
Helpful resources and other extra material you can put to immediate use
No matter what you do for a living, there will probably come a time when you have to teach others what you know. Training For Dummies cuts through the complicated jargon to present the basics of teaching and learning in straightforward, plain English so you can share your specialized knowledge with those who need it.
Table of contents
Introduction.
Part I: So You're Going to Be a Trainer!
Chapter 1: What's a Trainer?
Chapter 2: Why Adults Learn.
Chapter 3: The Training Cycle.
Part II: Designing the Best Darn Training In the World.
Chapter 4: Assessing Needs and Developing Learning Objectives.
Chapter 5: Developing the Training Design.
Chapter 6: Using Off-the-Shelf Training.
Chapter 7: Being Prepared to Succeed.
Part III: Showtime: Delivering a Dynamic Training Session.
Chapter 8: Implementing Training Designs: Your Job as Facilitator.
Chapter 9: It's Showtime: Delivering Success.
Chapter 10: Mastering Media and Other Visuals.
Chapter 11: Training with Style.
Chapter 12: Addressing Problems: What's a Trainer to Do?
Part IV: It's Not Over Yet: The Follow-Up.
Chapter 13: Evaluation: It's Not Over Yet!
Chapter 14: Transfer of Learning.
Part V: The Professional Trainer.
Chapter 15: The Consummate Professional.
Chapter 16: Training Certification.
Chapter 17: Training Trends.
Part VI: The Part of Tens.
Chapter 18: Ten Tips to Start Off on the Right Foot.
Chapter 19: Ten Ways to Increase Participation.
Chapter 20: Ten Ways to Save Time in the Training Room.
Chapter 21: Ten Quick Ways to Form Small Groups.
Chapter 22: Ten Tips for Adding Humor to Training.
Chapter 23: Ten Icebreakers That Work.
Index.