Training Through Dialogue: Promoting Effective Learning and Change with Adults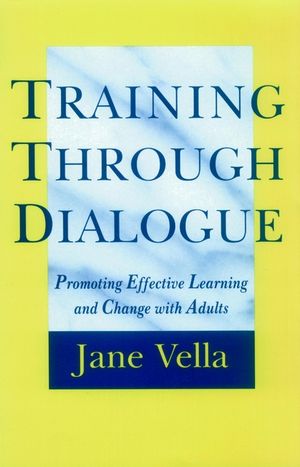 Training Through Dialogue: Promoting Effective Learning and Change with Adults
ISBN: 978-0-787-90135-6 October 1995 Jossey-Bass 224 Pages
Description
A lively, step-by-step approach to training the trainers of adults. Using numerous examples from a variety of settings, author Jane Vella compels instructors to critically examine their old teaching model and discover a new experience in education.
Table of contents
Part One: Training That Respects the Learner.

1. Teaching Adults: Insights from Popular Education.

2. Training Trainers in the Popular Education Approach: One Model.

Part Two: Lessons Learned from Practice.

3. Group Size and the Role of the "Professor": Training Trainers in Community Health.

4. The Importance of Dialogue: Training in Nonprofit Organizations.

5. Honoring the Role of the Learner: Training with Health Professionals.

6. Transforming the Culture of Teaching: Training in Literacy Programs.

7. Rebuilding Faith in Teaching: Training in a Substance Abuse Program.

8. Making Time for Training: A Community Development Bank Invests in Learning.

Part Three: Applying the Approach.

9. The Challenge of Design: Developing a Program for Community Volunteers.

10. Supporting Newly Trained Trainers: Strategies for Continuing Dialogue.

11. Evaluation: Beginning to Assess the Results.

Resource: Glossary of Popular Education Terms.
Reviews
"Jane Vella extAnds her previous work to bring us the sounds, smells, laughter, and images of 'train-the-trainer' workshops in popular education. Through living examples of workshops on health, literacy, and exconomic development in Chile, Haiti, Arkansas, and New England, we see how theory is translated into practice. Kudos for this hands-on application of popular education." (Nina B. Wallerstein, associate professor, Department of Family Community Medicine, University of New Mexico)

"Read this book if yu are serious about making a difference...a difference in the way you train trainers, facilitate training, and affect the lives of your participants." (Paula K. Berardinelli, president, Center for Organizational Research and Education, Inc.)

"A marvelous guide for all of us struggling to understand how adults learn, how we can teach in ways that respect and build on the needs and experiences of adults, and how we can help others learn the principles of popular education." (Richard Schramm, director, Goddard Business Institute, Goddard College)