Training for Impact: How to Link Training to Business Needs and Measure the Results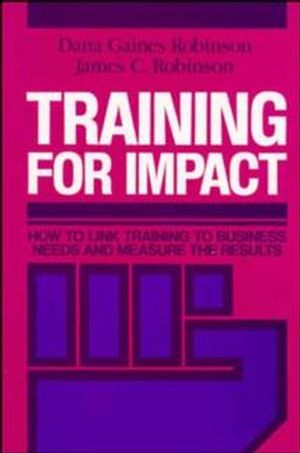 Training for Impact: How to Link Training to Business Needs and Measure the Results
ISBN: 978-1-555-42153-3
Aug 2013, Pfeiffer
336 pages
Description
Document your efforts in terms management will understand

Are your employee training efforts really paying off? In this hands-on guide, two top human resources consultants present a results-oriented, twelve-step approach that directly links training to specific organizational goals. Here is all the information and guidance you need to create a work environment that reinforces new skills and maximizes training results. You'll also learn to document the effect your efforts have on the bottom line, track subtle but important changes in employee values and beliefs, and demonstrate increased sales and productivity. It's THE definitive handbook for tracking and cost justification of training and development efforts.
Part One: Moving from Activity Training to Impact Training .

1. The Training-for-Activity Trap.

2. The Training-for-Impact Approach.

Part Two: Creating Strategic Partnerships with Management.

3. Identifying Business Needs and Clients.

4. Forming a Collaborative Relationship with Clients.

5. Conducting Initial Project Meetings.

Part Three: Diagnosing Organizational Needs and Making Training Decisions.

6. Assessing Performance Effectiveness.

7. Analyzing Causes of Performance Gaps.

8. Tabulating, Interpreting, and Reporting Results to Clients.

Part Four: Building Evaluation and Tracking Systems into Training Programs.

9. Participant Reactions: Going Beyond "Smile Sheets".

10. Participant Learning: Assessing Development of Knowledge and Skills.

11. Behavioral Results: Evaluating Transfer of Learning to the Job.

12. Nonobservable Results: Identifying Changes in Values, Beliefs, and Cognitive Skills.

13. Operational Results: Measuring Impact on the Business.

Part Five: Using the Training-for-Impact Approach.

14. How and Where to Begin.