Transboundary Environmental Negotiation: New Approaches to Global Cooperation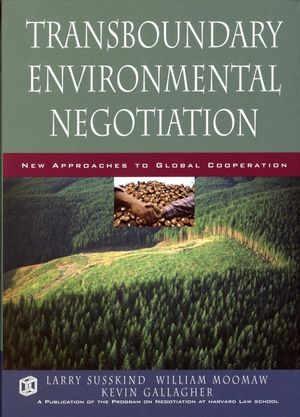 Transboundary Environmental Negotiation: New Approaches to Global Cooperation
ISBN: 978-0-787-96061-2
Aug 2002, Jossey-Bass
496 pages
Description
Transboundary Environmental Negotiation is an important collection of articles generated by faculty and graduate students at MIT, the Fletcher School of Law and Diplomacy at Tufts University, and the Program on Negotiation at Harvard Law School. The contributors emphasize the ways in which global environmental treaty-making can be improved. They highlight new environmental problems that pose difficult global negotiation challenges and suggest new strategies for involving a range of nongovernmental actors in ways that can overcome the obstacles to transboundary environmentalism.
Introduction.

About the Contributors.

PART ONE: RESHAPING ATTITUDES: THE NEED TO RETHINK THE BASIS FOR GLOBAL ENVIRONMENTAL ACTION.

1. Defining the ""Common Heritage of Mankind"" (Ari Nathan).

2. All Commons Are Local: The Antarctic Treaty System as a Regional Model for Effective Environmental Management (Gianfranco Corti).

3. International Environmental Negotiation: A Strategy for the South (Adil Najam).

PART TWO: A SHIFTING CAST OF CHARACTERS: BEYOND THE STATE AS UNITARY ACTOR.

4. Voluntary Codes of Management: New Opportunities for Increased Corporate Accountability (Anne M. Weiss).

5. Science and Scientists in International Environmental Negotiations (Laurent Renevier and Mark Henderson).

6. Science and Economics in Climate Change and Other International Environmental Negotiations (Peter Zapfel).

7. Promoting North-South NGO Collaboration in Environmental Negotiations: The Role of U.S. Foundations (Wendy Gay Vanasselt).

8. The Role of the Media in Environmental Issues: Newspaper Coverage in Four Countries (Anja Kollmuss).

PART THREE: New Tools and Arrangements: Adding Elements to the Treaty-Making System.

9. Integrating Information Technology into Environmental Treaty Making (Tobin L. Freid and Imke Wesseloh).

10. Enforcing International Environmental Treaties in Domestic Legal Systems (David W. Bowker and Michael Castellano).

11. Capacity-Building Strategies in Support of Multilateral Environmental Agreements (Heike Mainhardt).

PART FOUR: POSSIBLE NEW TREATIES: UTILIZING THE ELEMENTS OF A NEW SYSTEM.

12. Global Treaty on Renewable Energy (Fredric A. Beck).

13. A Proposal for an Environmental Right-to-Know Convention: Negotiating the Barriers (John Harrison).

14. The Global Nitrogen Initiative: An Opportunity for Sustainable Development and Global Change (James F. Perkaus).

15. A Proposed International Framework Convention on Bioinvasive Species (Wendy M. Jastremski).

16. Harder than Physics: Negotiating an International Regime to Limit Transboundary Consequences of Nuclear Waste Disposal (Marcus Dubois King).

PART FIVE: GAUGING THE SUCCESS OF A MORE INTEGRATIVE SYSTEM.

17. Linking Human Rights and Environmental Quality (Kristi N. Rea).

18. The Potential for Environmental Contributions to Peace (Maria Fariello Laux).

Bibliography.

Name Index.

Subject Index.