Transform Tomorrow: Awakening the Super Saver In Pursuit of Retirement Readiness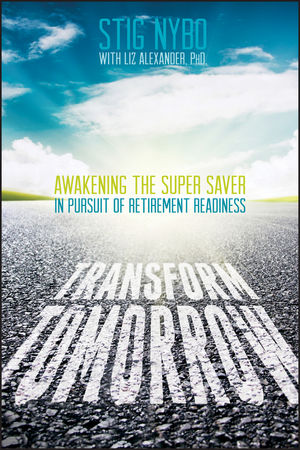 Transform Tomorrow: Awakening the Super Saver In Pursuit of Retirement Readiness
ISBN: 978-1-118-53736-7 January 2013 208 Pages
Description
A campaign to prepare Americans for their futures
Transform Tomorrow investigates why so many Americans are at risk of out-living their savings. Author Stig Nybo draws inspiration from successful behavior change campaigns to identify the drivers of change—context and beliefs—and how they can be successfully employed to boost retirement savings rates. While the retirement savings industry increasingly embraces the contextual drivers of behavior, very little is being done to shape our beliefs to start saving smarter and sooner. Nybo suggests a retirement readiness campaign to inspire and enlist the support of individuals, employers, industry, government, and the media.
Explains how society can transition from treating 401(k) as a voluntary benefit to the basis upon which each individual who wants to or needs to can retire comfortably.
Details a national, coordinated retirement readiness campaign, along the lines of successful Public Service Advertisements—like "The Crying Indian" and Rosie the Riveter—that will help change behavior and re-shape the culture of our nation
Makes a call to action for such a campaign
Retirement in America is endangered, but Transform Tomorrow shows a path back from the brink.
Foreword Alison Cooke Mintzer vii
Acknowledgments ix
Introduction xiii
Chapter 1 Retirement Readiness: The Super Savers and the Ill-Prepared 1
Chapter 2 A Brief History of Retirement 19
Chapter 3 State of the Union 31
Chapter 4 Rise of the DC Plan 43
Chapter 5 Financial Literacy 57
Chapter 6 Lessons Learned, Changing Outcomes 71
Chapter 7 The Power of Context 85
Chapter 8 Beliefs and Resolve 103
Chapter 9 Tell Me a Story 121
Chapter 10 Join the Dance 133
Chapter 11 Letters to Stakeholders 143
Bibliography 153
Glossary 161
List of Contributors 167
Index 175
About the Authors 185