Transforming Youth Serving Organizations to Support Healthy Youth Development: New Directions for Youth Development, Number 139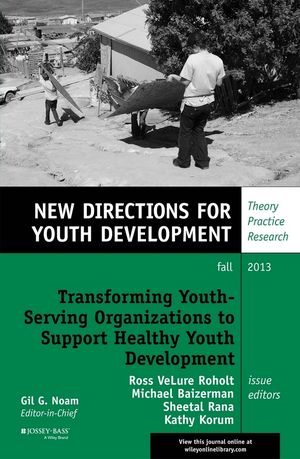 Transforming Youth Serving Organizations to Support Healthy Youth Development: New Directions for Youth Development, Number 139
ISBN: 978-1-118-82516-7 November 2013 Jossey-Bass 160 Pages
Description
This volume tells the story of major organizational change efforts at one municipal youth-serving organization to better support healthy youth development system wide.  Presenting the viewpoints of young people, frontline staff, supervisors, managers, and the director, it reviews how the organization developed and transformed. Each article then describes the different strategies and tactics used to support organizational transformation. Learn:
How a youth work professional development strategy ended up as an organizational development and change strategy
How the partnership with a university expanded to include community-based research and evaluation to support youth program development and improvement within the organization.
How youth advice structures can support high-quality youth programming and, by extension, improvements in organizational supports for quality youth programs
How partnerships with other organizations supported ongoing adaptation of the organization to better address youth needs
This is the 139th volume of New Directions for Youth Development, the Jossey-Bass quarterly report series dedicated to bringing together everyone concerned with helping young people, including scholars, practitioners, and people from different disciplines and professions.
Issue Editors' Notes 1
Ross VeLure Roholt, Michael Baizerman, Sheetal Rana, Kathy Korum
Executive Summary 5
Proem 9
Christopher B. Coleman
Preface 11
Michael Hahm
1. Missing in the youth development literature: The organization as host, cage, and promise 13
Ross VeLure Roholt, Michael Baizerman, Sheetal Rana, Kathy Korum
This article discusses how questions about organization change and development are directly connected to positive youth development efforts and how they provide a beginning research agenda on youth organizations.
2. From youth worker professional development to organizational change 27
Sheetal Rana with Briana Baumgardner, Ofir Germanic, Randy Graff, Kathy Korum, Megan Mueller, Steve Randall, Tim Simmons, Gina Stokes, Will Xiong, Karen Kolb Peterson
This article describes an ongoing, innovative youth worker professional development, its underlying philosophies and ethos, and its accomplishments. Also included are challenges and barriers that this
initiative faced and lessons learned from it.
3. Use of research for transforming youth agencies 59
Michael Baizerman, Emily Rence, Sean Johnson
This article describes the collaborative research strategy used by Youth Studies, University of Minnesota faculty and students, and Saint Paul (municipal) Parks and Recreation over the past five years as part of the effort to enhance Saint Paul Parks and Recreation's youth services and programs.
4. Youth advisory structures: Listening to young people to support quality youth services 79
Ross VeLure Roholt, Megan Mueller
This article analyzes youth advisory structures, their formal structural arrangements, the process used by each, and the practice of working with young people using certain processes within different types of formal organizational structures.
5. Shaping partnerships by doing the work 101
Kathy Korum
This article describes partnership approaches that encourage new ways of thinking about or working with other organizations that foster a space for negotiation and focus on meeting youth and community needs.
6. What can local foundations do to support youth service system change efforts? 115
Wokie Weah, Marcus Pope
This article describes an organization's experience of a collaborative approach to funding Saint Paul Parks and Recreation to help the agency continue and expand its innovations in youth work and to diffuse specific strategies into other recreation centers.
7. From lessons learned to emerging practices 121
Michael Baizerman, Ross VeLure Roholt, Kathy Korum, Sheetal Rana
This article brings together all lessons learned over our six years of work with Saint Paul Parks and Recreation and suggests the scientific truths, that is, and practice utility of these.
Index 147