Transfusion Medicine, 3rd Edition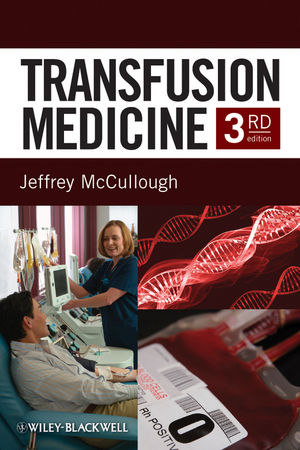 Transfusion Medicine, 3rd Edition
ISBN: 978-1-444-39872-4 October 2011 Wiley-Blackwell 548 Pages
Description
Transfusion Medicine offers a concise, clinically focused and practical approach to this important area of medicine.

This well-known handbook presents the experience of a world leader in the field of blood banking and transfusion therapy. Transfusion Medicine offers complete guidance on the full range of topics from donor recruitment, blood collection and storage, to testing and transfusing blood components, complications and transmissible diseases, as well as cellular engineering, therapeutic apheresis, and the role of hematopoietic growth factors.

This third edition includes updated information on a number of areas including:
Current debate on clinical effects of stored red blood cells
Emerging infectious diseases and impact on blood safety
New concepts of massive transfusion
World blood supply
Platelet transfusion
Pathogen inactivation
Transfusion Medicine will be valuable to all those working in the field of blood banking and transfusion. It is a good introduction to transfusion for hematology or oncology fellows and technologists specialising in blood banking.
1 History.
2 The Blood Supply.
3 Recruitment of Blood Donors.
4 Blood Donor Medical Assessment and Blood Collection.
5 Preparation, Storage, and Characteristics of Blood Components and Plasma Derivatives.
6 Autologous Blood Donation and Transfusion.
7 Production of Components by Apheresis.
8 Laboratory Testing of Donated Blood.
9 Blood Groups.
10 Laboratory Detection of Blood Groups and Provision of Red Cells.
11 Clinical Uses of Blood Components.
12 Transfusion Therapy in Specific Clinical Situations.
13 Techniques of Blood Transfusion.
14 Complications of Transfusion.
15 Transfusion-Transmitted Diseases.
16 The HLA System in Transfusion Medicine and Transplantation (S. Yoon Choo).
17 Hematopoietic Growth Factors in Transfusion Medicine.
18 Cellular Engineering for the Production of New Blood Components.
19 Therapeutic Apheresis.
20 Quality Programs in Blood Banking and Transfusion Medicine.
Index.
"This edition continues the tradition of excellence demonstrated in the first two editions. It is a must for any transfusion service director or physician heavily engaged in transfusion practices."  (Doody's, 24 August 2012)