Transgressing the Modern: Explorations in the Western Experience of Otherness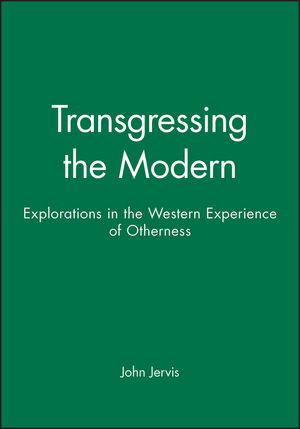 Transgressing the Modern: Explorations in the Western Experience of Otherness
ISBN: 978-0-631-21109-9 November 1999 Wiley-Blackwell 240 Pages
Description
This book provides the most concise, accessible account yet available of modern Western cultural and social explorations of 'other' forms or aspects of life that are devalued or coded as unacceptable, even unthinkable, in the modern ethos.
Table of contents
List of Plates.
Acknowledgements.
Introduction.
Part I: The Civilising Imperative.
1. Carnival Pleasures and The Spectre of Misrule.
2. Manners and Morals: The Civilisation of Culture.
Part II: Modernity and its Others.
3. Exotic Encounters: Savagery, Civilisation and the Imperial Other.
4. The Alienated Mind: Reason and The Exile of Madness.
5. Modernity's Sphinx: Woman as Nature and Culture.
6. The Rape and Romance of 'Nature'.
7. Forbidden Desires: Taboo, Transgression and Sexuality.
Part III: Continuities, Challenges, Transformations.
8. Blacks, Whites and Hybrids.
9. Postmodern Possibilities: Alienating The Modern.
Key Terms.
Guide to Further Reading.
Index.
Reviews
"Transgressing the Modern is what should be impossible: 'a carnival of representation' which subverts controversial boundaries between social theory, the humanities and the arts. It excavates the richest veins in modern western societies' endless struggles to marginalize, exclude and repress whatever makes them uncomfortable. John Jervis has written a wonderful synthesizing book - creative, imaginative and deeply suggestive of a better way forward." Rob Stones, University of Essex
Features
* Provides a sociocultural approach to modernity using a distinctive theoretical framework drawn from cultural studies and sociology.
* Broad interdisciplinary appeal.
* Concise, lively, approachable style