Transition Metals for Organic Synthesis: Building Blocks and Fine Chemicals, 2 Volume Set, 2nd, Revised and Enlarged Edition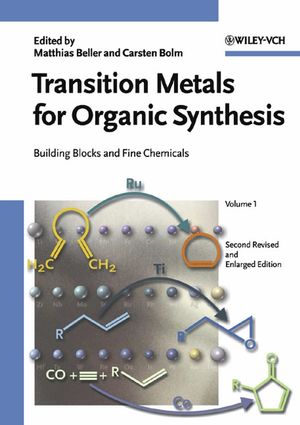 Transition Metals for Organic Synthesis: Building Blocks and Fine Chemicals, 2 Volume Set, 2nd, Revised and Enlarged Edition
ISBN: 978-3-527-30613-8
Oct 2004
1344 pages
Description
The definitive standard reference on the topic - now in its second, expanded edition with 20% more content and new chapters about ionic liquids, high pressure chemistry, the use of microwave technology and many more.

The two-volume "Beller/Bolm" presents the numerous applications in both academic and industrial research in a clearly structured manner. The fundamentals, catalytic and stoichiometric reactions with transition metals such as hydroformylation, amidocarbonylation and the Pauson-Khand reaction are treated in the first volume. The second volume focuses on hydrogenations and oxidations, as well as more modern methods, including the use of microwaves or ionic liquids.

The top editors, Matthias Beller and Carsten Bolm, have put together an international team of over 70 renowned authors, including two Nobel laureates, to guarantee first-class contributions. Readers in academia or industry will find here rapid access to this thorough and indispensable compendium.


From the contents:

VOLUME I: FORMATION OF CARBON-CARBON BONDS

Concepts for the Use of Transition Metals in Industrial Fine Chemical Synthesis
Hydroformylation -
Applications in the Synthesis of Pharmaceuticals and Fine Chemicals
Multiple Carbon-Carbon Bond Formations under Hydroformylation Conditions
The Amidocarbonylation of Aldehydes
Cyclopropanation
Isomerization of Olefin and the Related Reactions
Suzuki Reaction
Transition Metal-Catalyzed Arylation of Amines and Alcohols
Heck Reaction
Palladium-Catalyzed Allylic Substitutions
Fischer-Type Carbene Complexes
Chromium-Arene Complexes

VOLUME II: REDUCTIONS-OXIDATIONS

Homogeneous Hydrogenations
Heterogeneous Hydrogenations
Transferhydrogenations
Hydrosilylations
Oxidations of C-H Compounds Catalyzed by Metal Complexes
Metal-Catalyzed Baeyer-Villiger Reactions
Asymmetric Aminohydroxylation -
Recent Developments
Rhenium-Catalyzed Epoxidations
Wacker-Type Oxidations
Two-Phase Catalysis
Transition Metal Catalysis under High Pressure in Liquid Phase
Transition Metal Catalysis using Ionic Liquids