Translational Genomics for Crop Breeding: Biotic Stress, Volume 1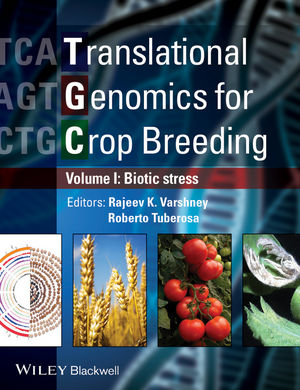 Translational Genomics for Crop Breeding: Biotic Stress, Volume 1
ISBN: 978-1-118-72832-1 September 2013 Wiley-Blackwell 368 Pages
Foreword vii
Preface ix
Chapter 1 Translational Genomics in Crop Breeding for Biotic Stress Resistance: An Introduction 1
Rajeev K. Varshney and Roberto Tuberosa
Chapter 2 Bacterial Blight Resistance in Rice 11
Yanjun Kou and Shiping Wang
Chapter 3 The Genetic Basis of Disease Resistance in Maize 31
Tiffany Jamann, Rebecca Nelson, and Peter Balint-Kurti
Chapter 4 Genomics-Assisted Breeding for Fusarium Head Blight Resistance in Wheat 45
Hermann Buerstmayr, Maria Buerstmayr, Wolfgang Schweiger, and Barbara Steiner
Chapter 5 Virus Resistance in Barley 63
Frank Ordon and Dragan Perovic
Chapter 6 Molecular Breeding for Striga Resistance in Sorghum 77
Santosh P. Deshpande, Abdalla Mohamed, and Charles Thomas Hash, Jr.
Chapter 7 Nematode Resistance in Soybean 95
Tri D. Vuong, Yongqing Jiao, J. Grover Shannon, and Henry T. Nguyen
Chapter 8 Marker-Assisted Selection for Biotic Stress Resistance in Peanut 125
Mark D. Burow, Soraya C. M. Leal-Bertioli, Charles E. Simpson, Peggy Ozias-Akins, Ye Chu, Nicholas N. Denwar, Jennifer Chagoya, James L. Starr, M´arcio C. Moretzsohn, Manish K. Pandey, Rajeev K.Varshney, C. Corley Holbrook, and David J. Bertioli
Chapter 9 Organization of Genes Conferring Resistance to Anthracnose in Common Bean 151
Juan Jos´e Ferreira, Ana Campa, and James D. Kelly
Chapter 10 Enabling Tools for Modern Breeding of Cowpea for Biotic Stress Resistance 183
Bao-Lam Huynh, Jeffrey D. Ehlers, Timothy J. Close, Ndiaga Ciss´e, Issa Drabo, Ousmane Boukar, Mitchell R. Lucas, Steve Wanamaker, Marti Pottorff, and Philip A. Roberts
Chapter 11 Disease Resistance in Chickpea 201
Teresa Mill´an, Eva Madrid, Muhammad Imtiaz, Mohamed Kharrat, and Weidong Chen
Chapter 12 Resistance to Late Blight in Potato 221
Jadwiga´ Sliwka and Ewa Zimnoch-Guzowska
Chapter 13 Late Blight of Tomato 241
Marcin Nowicki, Elÿzbieta U. Kozik, and Majid R. Foolad
Chapter 14 Marker-Assisted Selection for Disease Resistance in Lettuce 267
I. Simko
Chapter 15 Marker-Assisted Breeding for Cassava Mosaic Disease Resistance 291
E. Okogbenin, I. Moreno, J. Tomkins, C.M. Fauquet, G. Mkamilo, and M. Fregene
Chapter 16 Genetics and Gene Mapping of Disease Resistance in Brassica 327
Genyi Li and Peter B.E. McVetty
Appendix I – Contributors 345
Appendix II – Reviewers 351
Index 353
Color plate section can be found between pages 182 and 183.