Translational Genomics for Crop Breeding: Improvement for Abiotic Stress, Quality and Yield Improvement, Volume 2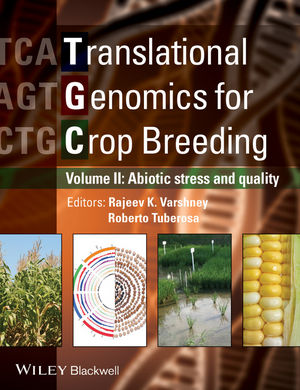 Translational Genomics for Crop Breeding: Improvement for Abiotic Stress, Quality and Yield Improvement, Volume 2
ISBN: 978-1-118-72837-6
Sep 2013, Wiley-Blackwell
260 pages
Description
Genomic Applications for Crop Breeding: Abiotic Stress, Quality and Yield Improvement is the second of two volumes looking at the latest advances in genomic applications to crop breeding. This volume focuses on advances improving crop resistance to abiotic stresses such as extreme heat, drought, flooding as well as advances made in quality and yield improvement. Chapters examine advances in such key crops as rice, maize, and sugarcane, among others. Genomic Applications for Crop Breeding: Abiotic Stress, Quality and Yield Improvement  complements the earlier volume on biotic stressors and will be an essential purchase for those interested in crop science and food production.
Foreword vii

Preface ix

Chapter 1 Translational Genomics for Crop Breeding: Abiotic Stress Tolerance, Yield, and Quality, An Introduction 1
Rajeev K. Varshney and Roberto Tuberosa

Chapter 2 Applying Genomics Tools for Breeding Submergence Tolerance in Rice 9
Endang M. Septiningsih, Bertrand C. Y. Collard, Sigrid Heuer, Julia Bailey-Serres, Abdelbagi M. Ismail, and David J. Mackill

Chapter 3 Genomics Applications to Salinity Tolerance Breeding in Rice 31
J. Damien Platten, Michael J. Thomson, and Abdelbagi M. Ismail

Chapter 4 Marker-Assisted Introgression of Major QTLs for Grain Yield Under Drought in Rice 47
Arvind Kumar, Shalabh Dixit, and Amelia Henry

Chapter 5 Molecular Breeding for Phosphorus-efficient Rice 65
Sigrid Heuer, J.H. Chin, R. Gamuyao, S.M. Haefele, and M. Wissuwa

Chapter 6 Aluminum Tolerance in Sorghum and Maize 83
Jurandir V. Magalhaes, Lyza G. Maron, Miguel A. Pi˜neros, Claudia T. Guimar˜aes, and Leon V. Kochian

Chapter 7 Freezing Tolerance in the Triticeae 99
Galiba Gabor, Eric J. Stockinger, Enrico Francia, Justyna Milc, Gabor Kocsy, and Nicola Pecchioni

Chapter 8 Molecular Breeding for Stay-Green: Progress and Challenges in Sorghum 125
Vincent Vadez, Santosh Deshpande, Jana Kholova, Punna Ramu, and C. Tom Hash

Chapter 9 Genetic Improvement of Grain Quality in Japonica Rice 143
Kiyosumi Hori and Masahiro Yano

Chapter 10 Biofortified Maize – A Genetic Avenue for Nutritional Security 161
Raman Babu, Natalia Palacios, and BM Prasanna

Chapter 11 Marker-Assisted Backcrossing Selection for High O/L Ratio in Cultivated Peanut 177
Padmalatha Koilkonda, Chikara Kuwata, Masanobu Fukami, Kenta Shirasawa, Koh Aoki, Satoshi Tabata, Makoto Hasegawa, Hiroyuki Kiyoshima, Shigeru Suzuki, Shigemi Sasamoto, Atsushi Kurabayashi, Hisano Tsuruoka,
Tsuyuko Wada, and Sachiko Isobe

Chapter 12 Genomics-Assisted Breeding for Tomato Fruit Quality in the Next-Generation Omics Age 193
Matthew P. Kinkade and Majid R. Foolad

Chapter 13 Improvement of Yield per se in Sugarcane 211
M. Gouy, S. Nibouche, J.Y. Hoarau, and L. Costet

Appendix I – Contributors 239

Appendix II – Reviewers 243

Index 245

Color plate section can be found between pages 82 and 83.