Translational Immunology in Asia-Oceania: The 5th International Congress of the Federation of Immunological Societies of Asia-Oceania, Volume 1283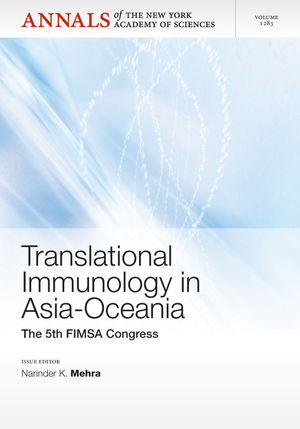 Translational Immunology in Asia-Oceania: The 5th International Congress of the Federation of Immunological Societies of Asia-Oceania, Volume 1283
ISBN: 978-1-573-31866-2
May 2013, Wiley-Blackwell
252 pages
Description
Immunology has rapidly evolved as a field, in particular, by moving beyond merely understanding the basic mechanisms of the immune system to developing diagnostic and clinical applications. As part of this globally broadening effort, the Fifth Congress of the Federation of Immunological Societies of Asia-Oceania (FIMSA) was held in New Delhi March 14–17 2012. The presentations centered on the theme: "Translational Immunology in Health and Diseases." Extending this theme, this volume comprises the topics covered in ten Master Lectures and five award-winning poster presentations, including work on genetic control of immunity, autoimmunity, and the immune response in relation to specific conditions. 

NOTE: Annals volumes are available for sale as individual books or as a journal. For information on institutional journal subscriptions, please visit http://ordering.onlinelibrary.wiley.com/subs.asp?ref=1749-6632&doi=10.1111/(ISSN)1749-6632.
ACADEMY MEMBERS: Please contact the New York Academy of Sciences directly to place your order (www.nyas.org). Members of the New York Academy of Science receive full-text access to Annals online and discounts on print volumes. Please visit http://www.nyas.org/MemberCenter/Join.aspx for more information about becoming a member.
A brief history of the Federation of Immunological Societies of Asia-Oceania (FIMSA) v
Narinder K. Mehra
Immunology and world health: key contributions from the global community 1
G. J. V. Nossal
The life of regulatory T cells 8
Iris K. Gratz, Michael D. Rosenblum, and Abul K. Abbas
Cross-reactive humoral responses to influenza and their implications for a universal vaccine 13
Christopher Chiu, Jens Wrammert, Gui-Mei Li, Megan McCausland, Patrick C. Wilson, and Rafi Ahmed
The dual role of biomarkers for understanding basic principles and devising novel intervention strategies in tuberculosis 22
January Weiner 3rd, Jeroen Maertzdorf, and Stefan H. E. Kaufmann
Clinical relevance of antibody development in renal transplantation 30
Narinder Mehra, Jamshaid Siddiqui, Ajay Baranwal, Sanjeev Goswami, and Gurvinder Kaur
Th2-type innate immune responses mediated by natural helper cells 43
Shigeo Koyasu and Kazuyo Moro
A unique vaccine for control of fertility and therapy of advanced-stage terminal cancers ectopically expressing human chorionic gonadotropin 50
G. P. Talwar
Immunology of neuromyelitis optica: a T cell-B cell collaboration 57
Meike Mitsdoerffer, Vijay Kuchroo, and Thomas Korn
Regulation of Toll-like receptor signaling pathways in innate immune responses 67
Cheng Quian and Xuetao Cao
Best Oral Presentation Winners TAP expression level in tumor cells defines the nature and processing of MHC class I peptides for recognition by tumor-specific cytotoxic T lymphocytes 75
Faten El Hage, Aurélie Durgeau, and Fathia Mami-Chouaib
Proinflammatory cytokines contribute to development and function of regulatory T cells in type 1 diabetes 81
Helen E. Thomas, Kate L. Graham, Jonathan Chee, Ranjeny Thomas, Thomas W. Kay, and Balasubramanian Krishnamurthy
Development of novel genetic cancer vaccines based on membrane-attached β2 microglobulin 87
Gal Cafri, Alon Margalit, Esther Tzehoval, Lea Eisenbach, and Gideon Gross
Genomic evaluation of HLA-DR3+ haplotypes associated with type 1 diabetes 91
Neeraj Kumar, Gurvinder Kaur, Nikhil Tandon, Uma Kanga, and Narinder Mehra
PPE2 protein of Mycobacterium tuberculosis may inhibit nitric oxide in activated macrophages 97
Khalid Hussain Bhat, Arghya Das, Aparna Srikantam, and Sangita Mukhopadhyay
102 Corrigendum for Ann. N.Y. Acad. Sci. 2012.1274: 86-91
103 Erratum for Ann. N.Y. Acad. Sci. 2012. 1275: 54-62