Transmembrane Transporters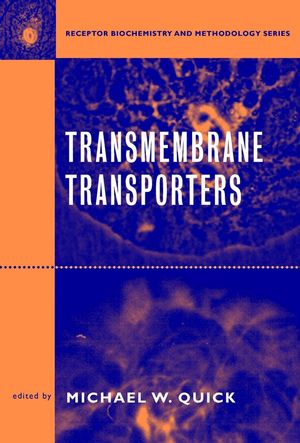 Transmembrane Transporters
ISBN: 978-0-471-46123-4 April 2003 312 Pages
Description
A must-have far-reaching text that provides readers with a state-of-the-art molecule update on transmembrane transporters, focusing on the methodological approaches currently employed to better understand how transporters work and how they can be used in cutting edge therapies. Each chapter begins with an overview of the importnat biological questions presently being considered in their field, then presents scientific approaches to address these questions. In explaining approaches, the authors cover bench-top protocols, conceptual frameworks, data obtained, and pitfalls common to the techniques.
Table of contents
Series Preface.

Preface.

Contributors.

Families of Transporters and Their Classification (M. Saier).

Yeast as a Model System for Studying Glucose Transport (E. Boles).

Neurotransmitter Transporters of Drosophila (M. Burg & W. Pak).

Transgenic Mice in Monoamine Transporter Research (S. Jones).

Searching for Novel Genetic Variation in Neurotransmitter Transporters (R. Blakely & A. Belous).

Nonviral Gene Transfer Allows Up- and Down-Expression of the Brain Serotonin Transporter with Functional Consequences (M. Martres, et al.).

Methods in Studying the Regulation and Trafficking of Transmembrane Transporters (S. Deken, et al.).

Chemical Modification Strategies for Structure-Function Studies (G. Rudnick).

Methanethiosulfonate Reagent Accessibility Studies, Cysteine-Scanning Mutagenesis, Protein Overexpression, and Functional Reconstitution: A Strategy for Studying the Structure/Function Relationships within the Mitochondrial Citrate Transport Protein (R. Kaplan).

Peptide Mapping of Dopamine Transporter Ligand and Substrate Interaction Sites (M. Lowe, et al.).

Mass Spectrometry of Membrane Transport Proteins (J. Whitelegge, et al.).

Amperometric Recording of Amphetamine-Induced Dopamine Efflux (D. Sulzer, et al.).

Voltage Clamp and Fluorometric Techniques for Studying Glutamate Transporter Function (A. Tzingounis, et al.).

Studies of Glial Glutamate Transporters in Hippocampal Microcultures (S. Mennerick, et al.).

Imaging Monoamine Transporters in the Brain (H. Kung & M. Kung).

Measuring and Modeling the Spatiotemporal Profile of GABA at the Synapse (L. Overstreet, et al.).

Index.
Reviews
"…superb, wide-ranging, and up-to-date volume is highly recommended for researchers, college instructors, and graduate and advanced undergraduate students…" (
The Quarterly Review of Biology
, Vol. 7, March 2004)
"...introduces many technologies to be used in future studies....people, who are interested in transporter research, can get new ideas for next research from this book." (Pharmaceutical Research, Vol. 20, No. 12, December 2003)