Transnational Migration, Social Inclusion, and Adult Education: New Directions for Adult and Continuing Education, Number 146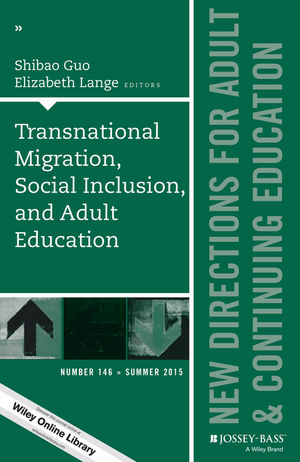 Transnational Migration, Social Inclusion, and Adult Education: New Directions for Adult and Continuing Education, Number 146
ISBN: 978-1-119-11615-8 June 2015 Jossey-Bass 120 Pages
Download Product Flyer
Download Product Flyer
Download Product Flyer is to download PDF in new tab. This is a dummy description. Download Product Flyer is to download PDF in new tab. This is a dummy description. Download Product Flyer is to download PDF in new tab. This is a dummy description. Download Product Flyer is to download PDF in new tab. This is a dummy description.
Description
As a result of transnational migration, many countries are becoming increasingly ethnoculturally diverse, creating both new opportunities and challenges for practices of adult education. This volume examines the changing nature of adult education in the age of increased transnational migration and:
• synthesize the latest research, policies, and practices in transnational migration and adult education,
• examines the larger historical and structural issues of race and gender in immigration and newer theories, such as diaspora studies, in relation to adult education, and
• provides examples and recommendations for enhancing socially just and inclusive adult education environments for newcomers.
Transborder injustices and multiple dimensions of social justice permeate immigration dynamics and challenge adult educators to rethink social justice in a transnational age.

This is the 146th volume of the Jossey Bass series New Directions for Adult and Continuing Education. Noted for its depth of coverage, it explores issues of common interest to instructors, administrators, counselors, and policymakers in a broad range of education settings, such as colleges and universities, extension programs, businesses, libraries, and museums.
Table of contents
EDITORS' NOTES 1
Shibao Guo, Elizabeth Lange
1. The Changing Nature of Adult Education in the Age of Transnational Migration: Toward a Model of Recognitive Adult Education 7
Shibao Guo
This chapter maps the changing context of transnational migration and its impact on adult education and proposes recognitive adult education as an inclusive model of adult education.
2. Settlement Services in the Training and Education of Immigrants: Toward a Participatory Mode of Governance 19
Hongxia Shan
This chapter reviews the roles that settlement services have played historically in the training and education of immigrants in Canada and promotes a participatory mode of governance as a means to expanding immigrants life world.
3. Informal Adult Learning and Emotion Work of Service Providers for Refugee Claimants 29
Susan M. Brigham, Catherine Baillie Abidi, Evangelia Tastsoglou, Elizabeth Lange
Recognizing the life and death realities of refugees who are claiming asylum in another country, this chapter examines the informal learning and emotion work of service providers who accompany refugee claimants through the refugee application process.
4. Language Policies and Programs for Adult Immigrants in Canada: Deconstructing Discourses of Integration 41
Yan Guo
From a critical multicultural approach, this chapter explores the various purposes of English as a Second Language (ESL) programs and the policy shifts over time, and it deconstructs discourse that is assimilationist in intent.
5. Literacy and Language Education: The Quantification of Learning 53
Tara Gibb
This chapter describes international policy contexts of adult literacy and language assessment and considers the implications that the quantification of learning outcomes has for pedagogy and practice as well as for social inclusion of transnational migrants.
6. Migrating Professional Knowledge: Progressions, Regressions, and Dislocations 65
Bonnie L. Slade
This chapter argues that adult educators need to have a critical awareness of transnational migration dynamics to be able to work in meaningful ways with immigrant professionals, particularly in regard to deskilling issues.
7. Race and Gender in Immigration: A Continuing Saga With Different Encryptions 75
Edward Joaquin, Juanita Johnson-Bailey
From a postcolonial framework, this chapter offers a historical analysis of the immigrant experience, highlighting raced and gendered perspectives that have shaped a persistent colonial mindset, and the potential of transnational adult education for social inclusion.
8. Diaspora, Migration, and Globalization: Expanding the Discourse of Adult Education 87
Mary V. Alfred
This article explores how notions of diaspora,migration, and globalization intersect to inform identities and social realities of immigrant adults.
9. Rethinking Social Justice and Adult Education for Welcoming, Inclusive Communities: Synthesis of Themes 99
Elizabeth Lange, Catherine Baillie Abidi
In synthesizing themes across preceding chapters using a more expansive social justice frame, this chapter discusses the historical and transnational dynamics of migration and profiles adult education spaces as places for building welcoming, inclusive communities.
INDEX 111