Transnational Social Policy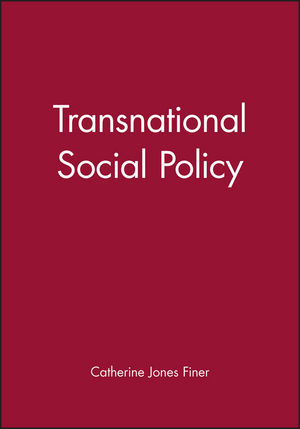 Transnational Social Policy
ISBN: 978-0-631-21128-0
Jul 1999, Wiley-Blackwell
156 pages
Description
In today's shrinking world of globalised economic activity and planet-level ecological anxiety, social policy can no longer expect or afford to remain solely within the province of the nation state or perhaps even within the province of regional collections of states. To the extent that the impact of global economics knows no boundaries, then neither should that of its counterpart, 'global' social policy.

However, in practice, social policies remain very much rooted in national and local cultures, not to mention perceived national and local interests. Therefore it remains difficult to see how far, on whose terms, at what cost and to what conceivable effect, forms of transnational social policy - or even of transnational social policy standard-setting - are likely to come into their own.

The present collection explores this problem from an impressive range of practical and theoretical perspectives. As such it constitutes a vital addition to the international - hitherto mainly 'cross-national' - literature on the subject. Thus it should/will be essential reading for teachers, students, researchers and policy makers in search of timely supra-national perspectives; just as it should no less excite the interested general reader
1. Editorial introduction: Catherine Jones Finer (University of Birmingham).
2. The Meaning of Globalization for Development Policy: Clare Short (Secretary of State for Overseas Development in Her Majesty's Government).
3. Foreign Policy, Human Rights and the United Kingdom: Conor Foley and Keir Starmer (Amnesty International and Barrister at Doughty Street Chambers).
4. Beyond the Nation State: Social Policy in an Age of Globalization: Ramesh Mishra (York University, Toronto).
5. Development NGOs and the Challenge of Partnership: Changing Relations: David Lewis (London School of Economics).
6. Trickle-down or Rising Tide?Lessons on Mainstreaming Gender Policy from Colombia and South Africa: Jo Beall (London School of Economics).
7. Transnational Fundraising in a Good Cause: A North-South European Example: Catherine Jones Finer (University of Birmingham).
8. Knowledge Communities, Spatial Theory and Social Policy: Steven Pinch (University of Southampton).
9. The Transferability of Welfare Models: A Comparison of the Scandinavian and State Socialist Models in Relation to Finland and Estonia: Nick Manning and Ian Shaw (University of Nottingham).
10. Global Topographies: The Spiritual, the Social and the Geographical in the Missionary Movement from the West: Werner Ustorf (University of Birmingham).
* Has a global appeal, addressing trends in Social Policy which transcend national boundaries.
* Includes contributions from policy makers and academics drawn from a wide range of disciplines.