Transoesophageal Echocardiography in Anaesthesia and Intensive Care Medicine, 2nd Edition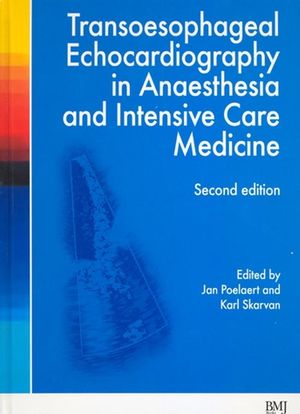 Transoesophageal Echocardiography in Anaesthesia and Intensive Care Medicine, 2nd Edition
ISBN: 978-0-470-75996-7 April 2008 BMJ Books 364 Pages
Description
Transoesophageal Echocardiography (TOE) has a major impact on patient management during the perioperative period. It is an evolving tool in diagnosis of cardiovascular disease and haemodynamic assessment. The knowledge required for the examination and the practice of TOE is enormous and is continuously evolving. Consequently there is a clear need for a new comprehensive text written by experts involved in the perioperative care, not (only) by the cardiologists or full time echocardiographers.
Table of contents
Physical principles of ultrasound.
Perioperative transoesophageal echocardiography.
Global left ventricular systolic function.
Left ventricular diastolic function.
Mitral valve disease.
Aortic valve.
Prosthetic valves.
Right ventricle.
Thoracic aorta.
Haemodynamics.
Myocardial ischaemia.
Congenital heart disease.
Cardiac masses, air, and foreign bodies.
Minimally invasive and minimal access cardiac surgery.
Circulatory assist devices, artificial heart, and heart and lung transplantation.
Artifacts and pitfalls.
Training and certification in the United States.
Training and certification in Europe.
TOE and assist devices, artificial heart and heart transplantatiaon
What's New
- Complete overview of this technique in the perioperative setting
- First book in English edited by European specialists, with cooperation of both American and European anesthesiologist, intensivists and cardiologists.
- Relevant for everyone working in the field of perioperative evaluation and monitoring