Trauma: A Social Theory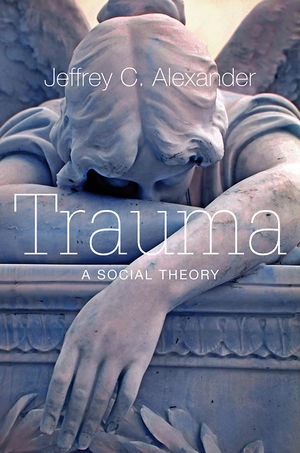 Trauma: A Social Theory
ISBN: 978-0-745-66135-3 April 2013 Polity 240 Pages
Description
In this book Jeffrey C. Alexander develops an original social theory of trauma and uses it to carry out a series of empirical investigations into social suffering around the globe.
Alexander argues that traumas are not merely psychological but collective experiences, and that trauma work plays a key role in defining the origins and outcomes of critical social conflicts. He outlines a model of trauma work that relates interests of carrier groups, competing narrative identifications of victim and perpetrator, utopian and dystopian proposals for trauma resolution, the performative power of constructed events, and the distribution of organizational resources.
Alexander explores these processes in richly textured case studies of cultural-trauma origins and effects, from the universalism of the Holocaust to the particularism of the Israeli right, from postcolonial battles over the Partition of India and Pakistan to the invisibility of the Rape of Nanjing in Maoist China. In a particularly controversial chapter, Alexander describes the idealizing discourse of globalization as a trauma-response to the Cold War.
Contemporary societies have often been described as more concerned with the past than the future, more with tragedy than progress. In Trauma: A Social Theory, Alexander explains why.
Table of contents
Preface and Acknowledgements
Introduction
Chapter 1. Cultural Trauma: A Social Theory
Chapter 2. Holocaust and Trauma: Moral Universalism in the West
Chapter 3. Holocaust and Trauma: Moral Restriction in Israel (with Shai Dromi)
Chapter 4. Massacre and Trauma: Nanjing and the Silence of Maoism (with Rui Gao)
Chapter 5. Partition and Trauma: Repairing India and Pakistan
Chapter 6. Globalization and Trauma: The Dream of Cosmopolitan Peace
Bibliography
Notes
Reviews
'Reminds the readers that working through trauma is not merely a matter of resurrecting "burried memories" but creating new ones. In this way, Alexander usefully beckons towards a future of "cosmopolitan peace". It is a dream worth returning to in the 21st century.'
Times Higher Education
'A masterpiece of cultural explanation. Alexander powerfully documents the complex effects of trauma and blame in conflicts among groups, in a book that is both readable and fascinating.'
James M. Jasper, CUNY Graduate Center
"Exemplary work in illustrating the processes that underlie trauma narrative creation."
Political Studies Review

'Combining theoretical astuteness and empirical sensitivity, Alexander's book is a hugely significant contribution to the understanding of collective trauma, suffering, and memory. It opens up a wealth of new vistas for both cultural sociology and social theory more generally.'
David Inglis, University of Aberdeen
'Already established as a leading scholar of cultural trauma and collective memory, Jeffrey Alexander solidifies his position in this new book. He deepens our theoretical understanding of trauma, expands its relevance through novel comparative analysis, and improves our grasp of its ingredients. I always grade a book on how much it makes me think about new things, and on this count Alexander wins first prize.'
Neil Smelser, University of California, Berkeley
What's New
This is a new, original social theory of trauma by one of the world's leading social theorists.
Argues that traumas are not merely psychological but collective experiences and that they play a key role in defining the origins and outcomes of critical social conflicts.
Draws on various cases studies, from the Holocaust and post-colonial battles to the traumatic events of September 11.
This compelling volume will appeal to advanced undergraduates, graduate students and scholars in sociology, politics, media and cultural studies as well readers in the social sciences and humanities and the interested general reader.