Traumatic Dental Injuries: A Manual, 3rd Edition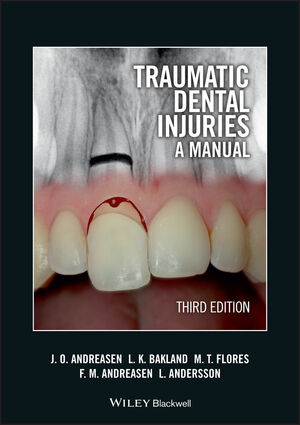 Traumatic Dental Injuries: A Manual, 3rd Edition
ISBN: 978-1-405-19061-9 April 2011 Wiley-Blackwell 100 Pages
Description
The third edition of
Traumatic Dental Injuries: A Manual
builds on the widespread success of the previous two editions. The ultimate guide to dental trauma, the manual preserves its uniquely usable and reader-friendly format, demonstrating step-by-step treatment protocols for commonly occurring traumatic injuries. Several new sections have been added to expand the number of clinical scenarios, describing soft tissue injuries associated with dental trauma, showing how decoronation of ankylosed anterior teeth in adolescents can preserve the alveolar process for later implant placement, and identifying predictors for pulpal and periodontal ligament healing complications as well as for tooth loss.
A unique feature of the new edition is the accompanying DVD which presents computer animations of all trauma scenarios, as well as links to the internet-based interactive Dental Trauma Guide to predict healing complication for individual trauma scenarios.


This title is also available as a mobile App from MedHand Mobile Libraries. Buy it now from Google Play or the MedHand Store.

Please note
The DVD no longer accompanies the book but all of the DVD's content can be accessed via the following link:
https://wiley.mpstechnologies.com/wiley/BOBContent/searchLPBobContent.do
Once here, please enter the ISBN and click 'search'. The content will then be available to download.
Table of contents
Epidemiology of Traumatic Dental Injuries.
Pathophysiology and Consequences of Dental Trauma.
Classification of Dental Injuries.
Examination and Diagnosis.
Diagnosis of Pulpal Healing Complications.
Diagnosis of Periodontal Healing Complications.
Treatment Priorities after Dental Trauma.
Crown Fracture without Pulp Exposure.
Crown Fracture with Pulp Exposure.
Crown-Root Fracture.
Root Fracture.
Alveolar Process Fracture.
Concussion.
Subluxation.
Extrusive Luxation.
Lateral Luxation.
Intrusive Luxation.
Avulsion.
Injuries to the Primary Dentition.
Soft Tissue Injuries.
Splinting.
Endodontic Considerations in Dental Trauma.
Decoronation of Ankylosed Teeth in Adolescents.
Predictors for Healing Complications.
Tooth Survival in the Permanent Dentition.
Information for the Patient about Dental Trauma.
Information for the Public about Dental Trauma.
Prevention of Traumatic Dental Injuries.
Appendices.
References.
Index.
New To This Edition
Accompanying DVD, links on online dental trauma database, update of all chapters, additional new chapters.
Reviews
"The text is easy to read and minimalist in style ... If you are looking for a trauma textbook for your surgery, this is probably the one you should buy." (Primary Dental Care, 1 January 2012)
"The book's target audience is best summaried in the preface to the first edition: "We present the highlights of dental traumatology in a format which will be a ready reference for general (dental) practitioners and aid dental students in their studies." (British Dental Association, 1 November 2011)
Reviews of the Previous Edition:
"The text is clear and well written and well referenced ... The chapters on diagnosis of periodontal and pulpal complications are particularly helpful as this is a difficult area for many clinicians. The manual will serve as an excellent reference for practitioners and dental students who have a good working knowledge of dental traumatology." (Journal of Orthodontics)
"In the second edition the authors build on their success and explore the research that has led to an improvement in the prognosis of traumatised teeth...a prominent change in the second edition is the inclusion of a brief description of the processes involved in wound healing in the first chapter. It is this emphasis on the importance of facilitating the natural healing of tissues that makes this book stand out." (British Dental Journal)
"The book is beautifully laid out for easy reference...illustrated with high quality photographs, radiographs, and illustrations." (British Journal of Oral and Maxillofacial Surgery)
Features
Uniquely succinct guide to dental trauma
Useful, clear color artwork and photographs
Quick reference for use in urgent clinical situations
Includes DVD showing computer animations of all trauma scenarios
Authors are international authorities on the subject