Treating Drinkers and Drug Users in the Community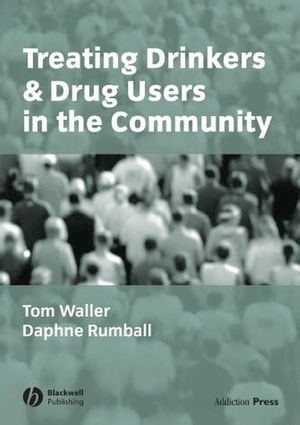 Treating Drinkers and Drug Users in the Community
ISBN: 978-0-470-69299-8 April 2008 Wiley-Blackwell 480 Pages
Description
Treating Drinkers and Drug Users in the Community is the second book in a new collection from Addiction Press. Addiction Press was set up with the express purpose of communicating current ideas and evidence in this expanding field, not only to researchers and practising health professionals, but also to policy makers, students and interested non-specialists. These publications are designed to address the significant challenges that addiction presents to modern society.











The drugs field has undergone a phase of rapid change in recent years and all the non-medical treatment interventions for those with alcohol problems and dependence can be equally helpful for drug users. This has opened the way for unification of alcohol and drug treatment services at a clinical level, with potential for more efficient service provision and for effective interventions which can be readily adopted in a wide range of settings. Modern drug and alcohol services and all professionals working with substance users will benefit from the initiatives and procedures discussed in this book.





Key features





* Describes a wide range of treatments for young people and adults with drug and alcohol dependence


* Integrates alcohol and drug prevention and treatment


* Provides an invaluable and accessible guide for many different professionals


* Sets out assessment criteria, questionnaires, and a joint treatment framework
Theoretical Considerations:.
Treating Drinkers and Drug Users in the Community: An Overview.
The Political Dimension: Different national approaches.
Prevention and Treatment – not separate issues but part of a continuum:.
Prevention and Treatment Services for Young People;Prevention and Treatment Services for Adults.
Assessment: Assessment.
Treatment:.
The Therapeutic Framework;.
Understanding Behavioural and Cognitive-Behavioural Treatment Approaches;.
Effective Counselling For Ongoing Client Contact;.
The Nature and Timing of Care Plan Interventions;.
Brief Interventions;.
Prescribing Interventions;.
Everyone Needs Help to Prevent Relapse;.
Reducing Environmental Harm and Increasing Social Strength;.
Reducing Psychological Harm and Increasing Psychological Strength;.
Working With Families;.
Substance Use and Mental Health;.
Physical Health Issues;.
Women Parents and Children;.
Professionally Aided Self-help,.
Twelve Step Work and the Maintenance of Abstinence;.
Epilogue.
Appendix.
Further reading and references.
Glossary of abbreviations and acronyms.
Index
"The book is going to prove to be an extremely useful resource for clinical staff." (
Alcohol & Alcoholism
, March 2009)
"Waller & Rumball's book has two outstanding features. First, it achieves admirably its ambition of being a thoroughly practical and eminently useful, modern guide to treatment and preventive work with alcohol and drug users. Secondly, an accurate empathy with the experiences of those suffering from alcohol and drug problems and a sincere respect for them as unique individuals is obvious on every page. For these reasons alone, the book is highly recommended for specialists in the field and those generalists who come into contact with alcohol and drug problems in their work."
(Addiction, Vol 101: 1, January 2006)
* Describes a wide range of treatments for young people and adults with drug and alcohol dependence.
* Integrates alcohol and drug prevention and treatment

* Provides invaluable step-by-step practical guide presented in an accessible way for many different professionals

* Sets out assessment criteria, questionnaires, and a joint treatment framework