Treating Sexually Abused Boys: A Practical Guide for Therapists & Counselors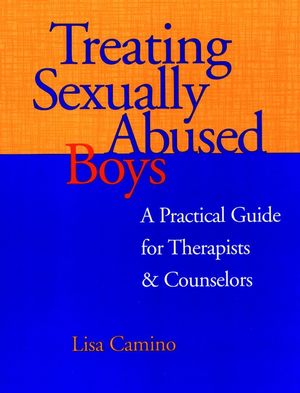 Treating Sexually Abused Boys: A Practical Guide for Therapists & Counselors
ISBN: 978-0-787-94793-4 November 1999 Jossey-Bass 288 Pages
Download Product Flyer
Download Product Flyer
Download Product Flyer is to download PDF in new tab. This is a dummy description. Download Product Flyer is to download PDF in new tab. This is a dummy description. Download Product Flyer is to download PDF in new tab. This is a dummy description. Download Product Flyer is to download PDF in new tab. This is a dummy description.
Description
A Practical, Hands-On Resource
Treating Sexually Abused Boys is a much-needed resource that offersclinical guidelines for addressing the unique needs of thispopulation. Written by an expert in the field of childhood sexualabuse, the book contains a wealth of exercises and activities thatcan be effectively applied in individual and group therapysettings. The techniques and exercises outlined are specificallydesigned to help sexually abused boys overcome feelings ofhelplessness, fear, and vulnerability and regain a sense ofpersonal power.

"Treating Sexually Abused Boys offers relevant and comprehensiveguidance for all mental health professionals who work with childrenand adolescents. The ready-to-use therapeutic activities make it aninvaluable resource for today's busy clinician."
--Tim Bynum, program director, Sexual Abuse Treatment Services forYWCA of Kauai, Hawaii

"Camino has written a practical, easily understood guide for thosewho work with boys affected by sexual abuse. Both the experiencedtherapist and the newcomer will find it helpful."
--Mic Hunter, author of Abused Boys: The Neglected Victims ofSexual Abuse and editor of The Sexually Abused Male, Volumes I& II

"If you have ever shrunk away from working with boy victims ofsexual abuse-out of fear of the subject's complexity or your ownuncertainty-this book is a must read. It combines practicality witha refreshing directness in teasing apart some of the intricacies ofpower and vulnerability as those issues play out with thistragically underserved population."
--Eugene Porter, author of Treating the Young Male Victim of SexualAssault
Table of contents
Preface.

Part One: A Therapeutic Approach Based on Empowerment.

Chapter 1 Introduction This Book and Its Intended Audience Meetinga Potential Client Sexual Abuse of Boys Empowerment: The Foundationof Recovery Your Responsibilities as a Therapist Conclusion.

Chapter 2 Completing an Initial Assessment Phase 1: Interview withReferring Party Phase 2: Assessment Session Conclusion.

Chapter 3 Individual Therapy Determining When to Use IndividualTherapy Increasing the Likelihood of Success in Individual TherapySample Session Format Addressing Problem BehaviorsConclusion.

Chapter 4 Group Therapy Determining When to Use Group TherapyPlanning a Group Recruiting Group Members Setting Group GoalsLeading a Group Session Preparing a Child to Leave Group TherapyConclusion.

Chapter 5 Working with Parents and Significant Adults Developing aTherapeutic Alliance with the Parent How a Parent Can Help Workingwith Other Significant Adults Conclusion.

Chapter 6 Handling Challenges Individual Therapy Group TherapyChallenges Related to External Factors Administrative ChallengesConclusion.

Part Two: Structured Activities to Use in Therapy.

About the Activities Activity
1 Definitions Activity
2 TV Interview Activity
3 Completing a Self-Evaluation Activity
4 Creating Group Rules Activity
5 Establishing a Ritual for Starting or Ending SessionsActivity
6 Brainstorming Power Behaviors Activity
7 Coping Through Relaxation Activity
8 Affirmations Activity
9 Letting Go of Blame Activity
10 Taking Responsibility for Yourself Activity
11 Forgiving Yourself Activity
12 Feelings Wheel Activity
13 Feelings and Behavior Activity
14 Creating a Slang Chart Activity
15 Making a Floor Plan Activity
16 Sharing the Details Activity
17 Understanding Everything You Always Wanted to KnowActivity
18 Discussing the Big "M" Word Activity
19 Sexuality Quiz Activity
20 Learning to Trust Activity
21 Taking a Trust Walk Activity
22 Deciding Who Will Know Activity
23 You and the People Around You Activity
24 Making and Keeping Friends Activity
25 Creating "Self" and "Offender" Drawings Activity
26 Differentiating Anger That Helps from Anger That HurtsActivity
27 Identifying Your Anger Zone Activity
28 Releasing and Resolving Anger Activity
29 Differentiating Assertive from Aggressive Activity
30 Recognizing What's Always Okay and What's Never OkayActivity
31 Fear Mural Activity
32 Conquering Nightmares Activity
33 Practicing the Problem-Solving Process Activity
34 What If Activity
35 Making Life Choices Activity
36 Clarifying the Connection Between Abuse and ArousalActivity
37 Identifying Your Red Flags Activity
38 Taking Preventive Action Activity
39 Changing Erroneous Thinking Activity
40 Understanding the Sexual Assault Cycle Activity
41 Brainstorming Consequences Activity
42 Establishing a Prevention Plan Activity
43 Taking Action to Avoid Offending Behavior Activity
44 Writing a Letter to the Offender Activity
45 Introducing the Grieving Process Activity
46 Identifying Your Sadness Triggers Activity
47 Meeting with an .

Appendix: Ten Therapeutic Interventions Resources.

References.

The Author.

Index.
Reviews
"Treating Sexually Abused Boys offers relevant and comprehensiveguidance for all mental health professionals who work with childrenand adolescents. The ready-to-use therapeutic activities make it aninvaluable resource for today's busy clinician." (Tim Bynum,program director, Sexual Abuse Treatment Services for YWCA ofKauai, Hawaii)

"Camino has written a practical, easily understood guide for thosewho work with boys affected by sexual abuse. Both the experiencedtherapist and the newcomer will find it helpful."I (Mic Hunter,author of Abused Boys: The Neglected Victims of Sexual Abuse andeditor of The Sexually Abused Male, Volumes I & I)

"If you have ever shrunk away from working with boy victims ofsexual abuse-out of fear of the subject's complexity or your ownuncertainty--this book is a must read. It combines practicalitywith a refreshing directness in teasing apart some of theintricacies of power and vulnerability as those issues play outwith this tragically underserved population." (Eugene Porter,author of Treating the Young Male Victim of Sexual Assault)