Trends and Directions in Climate Research, Volume 1146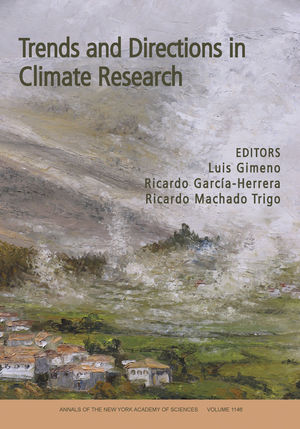 Trends and Directions in Climate Research, Volume 1146
ISBN: 978-1-573-31732-0
Jan 2009, Wiley-Blackwell
500 pages
Description
This volume examines future strategies in meteorology and climatology that encompass the atmospheric community and related scientists, service providers, manufacturers and users.

While the central focus of the volume is on the application of meteorology for society, a wide spectrum of scientific and application topics in atmospheric sciences is also addressed, including atmosphere and the water cycle, forecasting the weather from one day to one year ahead, climatology, and meteorology and society.

NOTE: Annals volumes are available for sale as individual books or as a journal. For information on institutional journal subscriptions, please visit www.blackwellpublishing.com/nyas.

ACADEMY MEMBERS: Please contact the New York Academy of Sciences directly to place your order (www.nyas.org). Members of the New York Academy of Science receive full-text access to the Annals online and discounts on print volumes. Please visit http://www.nyas.org/MemberCenter/Join.aspx for more information about becoming a member



Introduction: Luis Gimeno, Ricardo García-Herrera, and Ricardo M. Trigo.
1. Ship's Logbooks in Climatological Research: Reflections and Prospects: Dennis Wheeler and Ricardo García-Herrera.
2. The ENSO signal in the stratosphere: Natalia Calvo, Ricardo Garcia-Herrera, Rolando R. Garcia.
3. Hemispheric asymmetries in the Quasi-biennial Oscillation signature on the mid-high latitude circulation of the stratosphere: C. Peña-Ortiz , R. García-Herrera , P. Ribera , N. Calvo.
4. Cryosphere-atmosphere interaction related to NAO variability and change: Roxana Bojariu, Ricardo Garcia Herrera , Luis Gimeno, Tingjun Zhang, Oliver W. Frauenfeld.
5. The role of stochastic forcing on the behaviour of the Thermohaline circulation: M.N. Lorenzo, J.J. Taboada, I. Iglesias and I. Alvarez.
6. Are Reanalysis data useful to calculate Climate Indices over South America?: Amanda Sabatini Dufek, Tércio Ambrizzi and Rosmeri P. Rocha.
7. Classifications of atmospheric circulation patterns: recent advances and applications: Radan Huth, Christoph Beck, Andreas Philipp, Matthias Demuzere, Zbigniew Ustrnul, Monika Cahynová, Jan Kyselý, and Ole Einar Tveito.
8. The Intra-Americas Seas Low-Level Jet: Overview and Future Research: Jorge A. Amador.
9. Large Scale Factors in Tropical and Extratropical Cyclone Transition and Extreme Weather Events: Alexandre Bernardes Pezza and Ian Simmonds.
10. North Atlantic wind and cyclone trends and their impact in the European precipitation and Atlantic significant wave height: Ricardo M. Trigo, Maria A. Valente, Isabel F. Trigo, Pedro Miranda, Alexandre M. Ramos, Daniel Paredes, Ricardo García-Herrera.
11. A climatology based on reanalysis of baroclinic developmental regions in the extratropical Northern Hemisphere: Laura de la Torre, Raquel Nieto, Marta Noguerol, Juan Antonio Añel, Luis Gimeno.
12. Identification and Climatology of Cut-off Lows near the Tropopause: R. Nieto, M. Sprenger, H. Wernli, R. Trigo, and L. Gimeno.
13. The estimation of probable maximum precipitation: the case of Catalonia: M.Carmen Casas, Raül Rodríguez, Raquel Nieto, and Angel Redaño.
14. Daily rainfall variability over Northeastern Argentina in the La Plata River Basin: Norberto O. García, Raúl A. Pedraza.
15. Spatio-temporal upwelling trends along the Canary Upwelling System (1967–2006): M. Gómez-Gesteira, M. de Castro, I. Álvarez, M. N. Lorenzo, J.L.G. Gesteira & A.J.C. Crespo.
16. Impacts of Climate change and Variability on European Agriculture: results of inventory analysis in COST 734 countries: Simone Orlandini, Josef Eitzinger, Vesselin Alexandrov, Leonidas Toulios, Pierluigi Calanca, Miroslav Trnka, and Joergen Olesen.
17. Advances in Urban Climate Modeling: Julia Hidalgo, Valéry Masson, Alexander Baklanov, Grégoire Pigeon, Luis Gimeno.
Index of Contributors