Trends in Materials and Manufacturing Technologies for Transportation Industries and Powder Metallurgy Research and Development in the Transportation Industry: 6th MPMD Global Innovations Symposium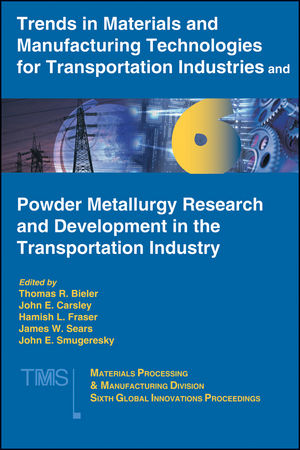 Trends in Materials and Manufacturing Technologies for Transportation Industries and Powder Metallurgy Research and Development in the Transportation Industry: 6th MPMD Global Innovations Symposium
ISBN: 978-0-873-39591-5
Jul 1998
406 pages
Description
With a focus on the application of materials in the transportation industry, this volume presents the proceedings of symposia sponsored by the TMS Materials Processing & Manufacturing Division at the 2005 TMS Annual Meeting. This volume examines developments in materials and manufacturing technologies used in the transportation industry—automotive, aerospace, aviation, and ground transportation—with a section focusing on powder metallurgy R&D related to these applications.

From the 2005 TMS Annual Meeting held in San Francisco, California, February 13 - 17, 2005.
Preface.
TRENDS IN MATERIALS AND MANUFACTURING TECHNOLOGIES FOR TRANSPORTATION INDUSTRIES.
KEYNOTE.
Adaptation of Automotive Technologies for the Production of General Aviation Aircraft (M.Y. Demeri).
An Overview of Hydrogen Storage for Transportation Application (J.C.F. Wang and E.C..E. Ronnebro).
RAPID PROTOTYPING.
Supersolidus Liquid Phase Sintering of Tool Steel for Rapid Tooling (J. Liu and H.A. Kuhn).
Development of Laser Ultrasonics for Defect Detection During Laser Powder Deposition (J. Nemeth, J. Sears, and M. Klien).
Direct Laser Deposition of 316l Stainless Steel (J. Dutta Majumdar, I. Manna, and L. Li).
Microstructure and Mechanical Properties of Spray-Formed H13 Steel Tooling (Y. Lin, K.M. McHugh, Y.-S. Park, Y. Zhou, and E.J. Lavernia).
Fabrication of PEM Fuel Cell Bipolar Plates by Selective Laser Sintering (S. Chen, D. Bourell, and K. Wood).
SHEET METAL FORMING.
Effect of Aspect Ratio on High Velocity Formability of Aluminum Alloy (M. Seth and G.S. Daehn).
Electrohydraulic Forming of Automotive Panels (S.F. Golovashchenko and V.S. Mamutov).
Numerical Simulation of Pulsed Electromagnetic Stamping Processes (S.F. Golovashchenko, N.M. Bessonov, and R.W. Davies).
Local Thermal Manipulation of Aluminium Alloys (B. Bjrneklett, O.P. S vik, O.R. Myhr, and H. Fjur).
Material Characterisation for Laser–Assisted Sheet Metal Hydroforming (H. Haferkamp, J. Bunte, and L. Engelbrecht).
Evaluation of Deformation–Induced Surface Morphologies Generated in an Aluminum Alloy Sheet (M.R. Stoudt, J.B. Hubbard, S.A. Janet, and J. Liu).
Microstructure Based Modelling of Al-Mg-Si Alloys in Development of Local Heating Processes for Automotive Structures (H.G. Fjær, B.I. Bjørneklett, and O.R. Myhr).
The Potential of Bake Hardening in Hot Rolled Multiphase Steels (H. Palkowski and T. Anke).
The Role of Non-Metallic Inclusions on the High Temperature Fracture Behavior of Low C, Al-Si Steels (E. Garcfa-Sánchez, A. Salinas–Rodríguez, and L.A. Leduc–Lezama).
Study on the Cold Formability of Drawn Dual–Phase Steels (K.S. Park, D.L. Lee, and C.S. Lee).
SHEET METAL PROCESSING.
Parametric Analysis for Warm Forming of Aluminum Blanks Using 2D FEA and DOE — Effects of Temperature Distribution and Friction (P. Chen and M. Koc).
The Effect of Lubrication on QPF Formability (P.E. Krajewski).
Effect of Copper Additions on Superplastic Behavior of 5083 AluminumAlloy (S. Kim and R. Verma).
Development of High Performance Alloy Sheets by Strip Casting (S.S. Park, J.G. Lee, and N.J. Kim).
Low–Cost Aluminum Tubes for Hydroforming Applications (A.A. Luo and A.K. Sachdev).
Impact Damage Tolerance of Fiber Metal Laminates for Transportation Structural Application (G. Wu and J.-M. Yang).
The Effect of Welding Parameters on the Microstructure and Microhardness of Resistance Spot Welded Galvannealed Steel Sheets (C.R. Claiborn and V.L. Acoff).
Microstructural Evolution During Bending: Conventional vs. Roller Hemming (J.E. Carsley).
NOVEL PROCESSES I.
Through Process Modelling in Manufacturing of Aluminium Structures for Automotive Applications (O.R. Myhr, B.W. Tveiten, H.G. Fjær, and B. Bjørneklett).
Deformation Behavior and Texture Development During the Thermomechanical Processing of Fe-15 At.% Ga Alloys Containing NbC (S. Guruswamy, P. Mungsantisuk, and D. Barker).
Processing Ti-Al-Nb Multi-Layered Composites from Elemetal Foils Using Accumulative Roll Bonding (R. Zhang and V.L. Acoff).
Processing of Gamma Titanium Aluminide Sheets Using Rolling and Reactive Synthesis (G.P. Chaudhari and V.L. Acoff).
Effects of Minor Alloying on the Microstructures and Creep Properties of Bicrystal RR2086 Superalloy (Y.H. Kong and Q.Z. Chen).
NOVEL PROCESSES II.
Improvement of Ductility and Toughness of Cryomilled Nanostructured Al Alloys (B.Q. Han and E.J. Lavernia).
Spray Rolling Aluminum Strip for Transportation Applications (K.M. McHugh, Y. Lin, Y. Zhou, E.J. Lavernia, J.-P. Delplanque, and S.B. Johnson).
Advanced Atomization Process for Metal Spray Deposition (P. Sokolowski, V. Uhlenwinkel, Y. Liu, V. Linetski, S. Pulbere, and I. Anderson).
BULK METAL PROCESSING.
Semisolid Microstructure Evolution an an ECAP-Processed Al-9mass%Si-3mass%Cu (AA380.1) Alloy (Y. Song, Y. Nishida, and T. Ando).
Thermo–Mechanical Processing of a Cast 7XXX Al Alloy Modified with Sc (R. Bhat, S. Tamirisa, and O. Senkov).
Microstructure and Tensile Properties of Developmental Al-Zn-Mg-Cu Cast Alloys Modified with Sc And Zr (S.V. Senkova, R.B. Bhat, and O.N. Senkov).
Age-Hardening and Plastic Anisotropy in Extruded AlMgSi and AlMgZn Profiles (H. Bjerkaas, S.K. Fjeldbo, H.J. Roven, J. Hjelen, and T. Furu).
Further Development in the Precision Forging Technology for High Duty Automotive Parts (B.-A. Behrens, S. Reinsch, A. Specker, and K. Telkamp).
Microstructural, Mechanical and Crystallographic Texture Evolutions in Ti-6Al-4V (L. Zeng and T.R. Bieler).
Effect of Oxygen Content on Fatigue Properties of Single-Melt PAM Processed Forged Ti-6Al-4V Bell Housings for Lightweight 155mm Howitzer (M. Guclu, I. Ucok, H. Dong, and C. Hatch).
POWDER METALLURGY RESEARCH AND DEVELOPMENT IN THE TRANSPORTATION INDUSTRY.
TITANIUM ALLOYS — P/M DEVELOPMENTS.
Influence of Si on the Microstructure of Reactive Sintered TiAl (D.E. Alman).
Fabrication of Titanium Automotive Parts with Laser Powder Deposition (S. Miller, M. Heath, B. Woods, A. Costello, D. Dolan, and J. Sears).
Synthesis and Characterization of Nanocrystalline Ti Alloys Using a Cryomilling Technique (F.S. Sun, P. Rojas, A. Zúñiga, and E.J. Lavernia).
A Novel Method of Injection Molding Titanium Components (E. Nyberg, K. Simmons, and K.S. Weil).
SINTERING AND DENSIFICATION — P/M PROCESSING.
Characteristics of W-Ni-Fe-(Cr) in Metal Injection Molding (F.-Y. Hung, T.-S. Lui, and L.-H. Chen).
Repair of Gas Turbine Engine Components with Laser Powder Deposition (S. Miller, M. Heath, B. Woods, A. Costello, and J. Sears).
Use of Combustion Synthesis in Preparing Ceramic–Matrix and Metal–Matrix Composite Powders (K.S. Weil and J.S. Hardy).
Bi-Material Transportation Components Using Powder Injection Molding: Densification, Shape Complexity, and Performance Attributes (R.M. German and J.L. Johnson).
Preparation of Magnetic Fe-Zn Alloys by Explosive Compaction (R.P. Corson, S. Guruswamy, and M.K. McCarter).
NANO-MATERIALS, INTERMETALLICS, AMORPHOUS AND COMPOSITE — P/M DEVELOPMENTS.
Preliminary Evaluation of Equal Channel Angular Extrusion Followed by Combustion Synthesis of TiAl (K. Morsi and S. Goyal).
Plasma Synthesis of Ultrafine AlTi-TiC Composites (L. Tong and R.G. Reddy).
Compressive Behavior of a Novel Aluminum Matrix Composite (J. Ye, B.Q. Han, Z. Lee, B. Ahn, S.R. Nutt, and J.M. Schoenung).
Author Index.
Subject Index.