True to Ourselves: A Celebration of Women Making a Difference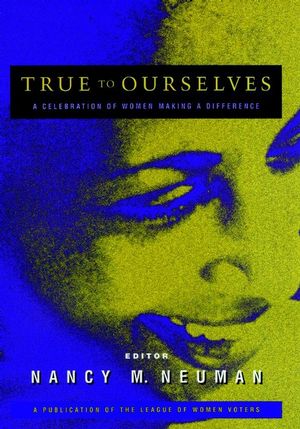 True to Ourselves: A Celebration of Women Making a Difference
ISBN: 978-0-787-94175-8 September 1998 Jossey-Bass 246 Pages
Description
League of Women Voters of the United States

A celebration of passionate, heroic women who represent theexpanding power and influence of women in American public life. Inthis dynamic collection, twenty-two extraordinary leaders shareinspiring personal stories that reflect the universal desire toeffect change in the world. Representing the nation's ethnicdiversity, these outstanding women demonstrate that everyone cantruly make a difference.

True to Ourselves presents a remarkable mix of women who haveconfronted tough choices, challenges, and tests of their owncharacter with determination and conviction. From polar explorerAnn Bancroft and Smith College president Ruth J. Simmons to secondlady Tipper Gore, activist Sarah Brady, and politicians CarolMoseley-Braun, Polly B. Baca, and Patsy T. Mink, the contributorsdescribe lives enriched by family, career, and their own commitmentto the larger public good. They reveal turning points thatcompelled them to change their lives and share their concerns aboutthe unfinished business of building an equal and inclusive society.Their stories and examples will inspire readers to face challengesin their own lives and fulfill their dreams and aspirations.
Table of contents
Part I: True to Ourselves.

1. Being Clear in Passion and Desire (Ann Bancroft).

2. Capturing Opportunities for Leadership (Ellen Hume).

3. Recognizing Moments of Learning (Ruth J. Simmons).

4. My Journey to Feminism (Mary Dent Crisp).

Part II: Woman Power.

5. Getting and Being Ready (Rosalie E. Wahl).

6. Woman Energy (Bella S. Abzug).

7. Up from Silence (Olympia J. Snowe).

8. Face to Face with Power (Carmen Delgado Votaw).

9. Expanding Our Horizons (Eva M. Clayton).

Part III: The Measure of Woman.

10. The Measure of Woman (Kathleen Kennedy TownsAnd).

11. Standing Alone (Carol Moseley-Braun).

12. Battling for My Cause (Sarah Brady).

13. Coloring Outside the Lines (Barbara Roberts).

Part IV: Turning Points.

14. My Moral Compass (Christine Todd Whitman)

15. A Change in Plans (Patsy T. Mink).

16. The Power of Partnership (Tipper Gore).

17. Seasons of a Life (Polly B. Baca).

Part V: New Directions.

18. What Do Women Want? (Celinda C. Lake).

19. Beyond Self Interest (Angela E. Oh).

20. My Otherness (Maria Hinojosa).

21. Getting Political (Amy R. Simon).

22. Building Bridges (Vicki Miles-LaGrange).
Reviews
"Even today, women can still feel alone in their struggle forpersonal satisfaction and success. The stories in True to Ourselvesdemonstrate that -- whatever our aspirations -- the power we needto face our personal challenges lives within us all." --DianeCromer, founder and partner, Keefer/Cromer Communications

"The moving and deeply personal stories in True to Ourselves remindall women that at any time, they are the mentors, leaders, andgivers of encouragement that can make a difference in each other'slives. Beautifully written and wonderfully inspiring." --MarjorieMargolis Mezvinsky, former representative from Pennsylvania

"It will be sad if only women read this book. Men who, howeversecretly, ask the question "What do women want?" will find answershere - both serious and profound." --Al Swift, formerrepresentative from Washington

"A rich source for laughter, tears, and wisdom, this book presentsreal insights, felt histories, and burning examples of what we needto know for the next generation and the next millenium." --Nancy Y.Bekavac, president, Scripps College

"If you're looking for a female role model, this book is a goodplace to start. It's filled with stories of risk taking andleadership that will inspire commitment to public service."--Harriett Woods, former president, National Women's PoliticalCaucus