Tumor Progression and Therapeutic Resistance, Volume 1059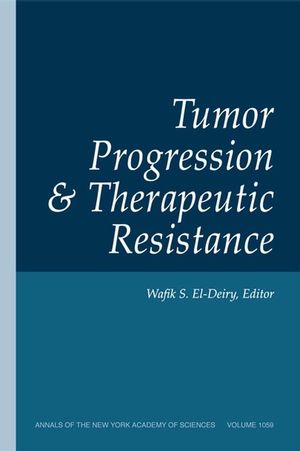 Tumor Progression and Therapeutic Resistance, Volume 1059
ISBN: 978-1-573-31544-9 December 2005 Wiley-Blackwell 210 Pages
Download Product Flyer
Download Product Flyer
Download Product Flyer is to download PDF in new tab. This is a dummy description. Download Product Flyer is to download PDF in new tab. This is a dummy description. Download Product Flyer is to download PDF in new tab. This is a dummy description. Download Product Flyer is to download PDF in new tab. This is a dummy description.
Description
The entire breadth of translational cancer research is addressed in this volume, which brings together members of academia and industry in the expectation of accelerating interactions and progress in the field.
A variety of key topics are presented, beginning with discovery of molecular targets and pathways (oncogene, cell survival, tumor suppression, cell death), host-neoplasm interactions (cell adhesion, matrix proteases), early detection, monitoring progression, understanding tumor progression and metastasis, immune surveillance, in vivo molecular imaging, animal models, drug discovery including chemistry, high-throughput assays, mechanism determination, target validation, therapeutic window and some progress in clinical trials for more advanced agents and targets.

NOTE: Annals volumes are available for sale as individual books or as a journal. For information on institutional journal subscriptions, please visit www.blackwellpublishing.com/nyas.
ACADEMY MEMBERS: Please contact the New York Academy of Sciences directly to place your order (www.nyas.org). Members of the New York Academy of Science receive full-text access to the Annals online and discounts on print volumes. Please visit http://www.nyas.org/MemberCenter/Join.aspx for more information about becoming a member.
Table of contents
Introduction:
Tumor Progression and Therapeutic Resistance: An Overview: Linda Hotchkiss Mehta.
1. Proteomics in Tumor Progression and Metastasis: Patrick A. Everley And Bruce R. Zetter.
2. Cytoplasmic/Nuclear Shuttling and Tumor Progression: Shao-Chun Wang And Mien-Chie Hung.
3. Targeting Intracellular Signaling Pathways as a Novel Strategy in Melanoma Therapeutics: Keiran S.M. Smalley And Meenhard Herlyn.
4. Studies into the Anticancer Effects of Selenomethionine against Human Colon Cancer: Mark A. Nelson, Anne-Christine Goulet, Elizabeth T. Jacobs, And Peter Lance.
5. Mechanisms of Prostate Tumorigenesis: Roles for Transcription Factors Nkx3.1 and Egr1: Sarki A. Abdulkadir.
6. Sulindac Sulfone Is Most Effective in Modulating ß-Catenin-Mediated Transcription in Cells with Mutant APC: Wen-Chi L. Chang, Lynette C. Everley, Gordon R. Pfeiffer, Ii, Harry S. Cooper, Alan Barusevicius, And Margie L. Clapper.
7. Targeting Ligand Cleavage to Inhibit the ErbB Pathway in Cancer: Bin-Bing S. Zhou.
8. Preclinical Modeling of Combination Treatments: Fantasy or Requirement?: Shannon Decker and Edward A. Sausville.
9. Mechanisms of Trastuzumab Resistance and Their Clinical Implications: Keng-Hsueh Lan, Chien-Hsing Lu, and Dihua Yu.
10. Regulation of Cancer Cell Survival by Par-4: Padhma Ranganathan and Vivek M. Rangnekar.
11. Morphogenics as a Tool for Target Discovery and Drug Development: Nicholas C. Nicolaides, Wolfgang Ebel, Brad Kline, Qimin Chao, Eric Routhier, Philip M. Sass, And Luigi Grasso.
12. A Comprehensive Strategy to Combat Colon Cancer Targeting the Adenomatous Polyposis Coli Tumor Suppressor Gene: Eugene W. Gerner, Natalia A. Ignatenko, Peter Lance, And Laurence H. Hurley.
13. External Imaging of CCND1, MYC, and KRAS Oncogene mRNAs with Tumor-Targeted Radionuclide-PNA-Peptide Chimeras: Xiaobing Tian, Atis Chakrabarti, Nariman V. Amirkhanov, Mohan R. Aruva, Kaijun Zhang, Boby Mathew, Christopher Cardi, Wenyi Qin, Edward R. Sauter, Mathew L. Thakur, And Eric Wickstrom.
14. Functional Validation of Genes Implicated in Lymphomagenesis: An in Vivo Selection Assay Using a Myc-Induced B-Cell Tumor: Duonan Yu, Diana Cozma, Andrea Park, And Andrei Thomas-Tikhonenko.
15. The Proteasome Inhibitor Bortezomib (Velcade) Sensitizes Some Human Tumor Cells to Apo2L/TRAIL-Mediated Apoptosis: Alan D. Brooks, Teresa Ramirez, Uhi Toh, Jennifer Onksen, Peter J. Elliott, William J. Murphy, And Thomas J. Sayers.
16. The Role of Tuberin in Cellular Differentiation: Are B-Raf and MAPK Involved?: Magdalena Karbowniczek And Elizabeth Petri Henske.
17. A Role for Hath1, a bHLH Transcription Factor, in Colon Adenocarcinoma: Ching Ching Leow, Paul Polakis, And Wei-Qiang Gao.
18. Alterations in DNA Repair Gene Expression under Hypoxia: Elucidating the Mechanisms of Hypoxia-Induced Genetic Instability: Ranjit S. Bindra, Paul J. Schaffer, Alice Meng, Jennifer Woo, Kårstein Måseide, Matt E. Roth, Paul Lizardi, David W. Hedley, Robert G. Bristow, and Peter M. Glazer