Turf Maintenance Facility Design and Management: A Guide to Shop Organization, Equipment, and Preventive Maintenance for Golf and Sports Facilities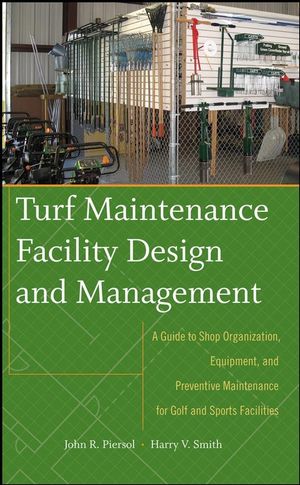 Turf Maintenance Facility Design and Management: A Guide to Shop Organization, Equipment, and Preventive Maintenance for Golf and Sports Facilities
ISBN: 978-0-470-08105-1 September 2008 192 Pages
Description
This book is an essential resource covering all aspects of setting up, and efficiently operating, a turf maintenance facility. The authors discuss the role of the turf equipment manager, the most effective shop equipment, management techniques for safe and efficient shop operation, and specialized diagnostics for turf equipment. This information is supported by photos and drawings illustrating shop layouts, workflow and organization charts, and preventative maintenance forms.
Buy Both and Save 25%!
Original Price:$170.00
Purchased together:$127.50
save $42.50
Cannot be combined with any other offers.
Introduction.
Chapter One: The Role of the Turf Equipment Manager.
History.
The Management Team.
The Turf Equipment Manager as the Team Psychologist.
Future Roles.
Sports Turf Facilities.
Chapter 2: Maintenance Facility and Shop Design.
Site Selection.
Sample layouts.
Design, Construction and Selling your Design to Management.
Remodeling Older Facilities.
Meeting Regulations and Zoning.
How to Allow for Expansion.
Functional Interior Space.
Zonal Concept.
Equipment Storage Area.
Office Space.
Lounge and Break Rooms.
Parking.
Landscaping.
How the Maintenance Facility Sets the Example.
Chapter 3: Preventive Maintenance.
What is PM?
Setting Up a PM System.
The Effects of No PM.
Well Trained Operators as a Resource.
The Technicians Role in PM.
Software.
Trims.
Sample Documents.
Chapter 4: Reel Technology.
Reel Mower Precision vs. Rotary Mower Simplicity.
Grinding Methods.
Back Lapping.
Grinding Equipment.
Reels.
Rotaries.
Adjusting for Height of Cut.
Tire Pressure.
Rotary Blades / Wear / Sharpening.
Chapter 5: Selecting Tools and Equipment for the Shop.
The Right Equipment for Your Shop.
Must Have Tools.
Special Tools.
Chapter 6: Problems and Suggestions.
A Simple Diagnostic Technique.
Inventory Control and Logistics.
Ethics.
Preventive Maintenance and Time Management.
Respect and the Technician.
Chapter 7: Training Equipment Operators.
Where to Find Good Operators.
Training Equipment Operators.
Chapter 8: Filling the Turf Equipment Manager Position.
Lack of Career Awareness.
High Schools as a Resource.
Postsecondary Programs.
Succession Planning.
Chapter 9: Safety Regulations and Regulatory Agencies.
Clean and Organized is Safer and More Efficient.
Assistance from Regulatory Agencies and Your Insurance Carrier.
Handling Fuels and Oils.
Chemical Handling.
Recycling and Detoxification.
Hazardous Materials Record Keeping.
Accident Prevention.
Accident Reports and Reporting.
First Aid and First Responders.
Chapter 10: Conclusions.
Appendix.
About the Authors.