Turkey: At the Threshold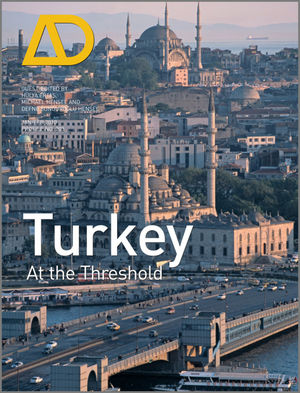 Turkey: At the Threshold
ISBN: 978-0-470-74319-5
Jan 2011
144 pages
Description
 All eyes are currently on Turkey with Istanbul's status as European Capital of Culture 2010. It makes it a pertinent moment to take stock and to look at Turkey's past, present and future, bringing the nation's cultural renaissance and evolution to the fore internationally. Since the early 2000s, Turkey has undergone a remarkable economic recovery, which has been accompanied by urban development and a cultural flowering. Positioned between an expanding European Union and an unstable Middle East, the country provides a fascinating interface between the Occident and the Orient. Taking into account the current political concerns with consolidating Eastern and Western cultures, Turkey is poised at a vital global crossroads:
Tackles aspects of globalisation and the potential threat that a rapid rolling out of an overly homogenised built environment poses to rich local building traditions that are founded on specific, climatic, knowledge and cultural diversity.

Provides an analytical approach that highlights specific aspects of Turkey's rich heritage and current design culture.

Features work by established and emerging design practices in Turkey.

Contributors include Tevfik BalcIoglu, Gülsüm Baydar, Edhem Eldem, Tolga islam, Zeynep Kezer, Ugur Tanyeli, ilhan Tekeli and Banu Tomruk.
Editorial
(Helen Castle).
Introduction.
Turkey: At the Threshold (Hülya Ertas, Michael Hensel and Defne Sunguroglu Hensel).
Extended Thresholds I: Nomadism, Settlements and the Defiance of Figure-Ground (Michael Hensel and Defne Sunguroglu Hensel).
Extended Thresholds II: The Articulated Envelope (Michael Hensel and Defne Sunguroglu Hensel).
Ottoman and Turkish Orientalism (Edhem Eldem).
The Story of Istanbul's Modernisation (Ilhan Tekeli).
The Making of Early Republican Ankara (Zeynep Kezer).
Medium-Scale Anatolian Cities: Conceptual and Physical Routes of Urban Transformation (Banu Tomruk).
The Potential of Istanbul's Unprogrammed Public Spaces (Hülya Ertas).
Current Urban Discourse, Urban Transformation and Gentrification in Istanbul (Tolga Islam).
Developing Cities with Design (Tevfik BalcIoglu and Gülsüm Baydar).
Creating Interfaces for a Sustainable Cultural Programme for Istanbul: An Interview with Korhan Gümüs (Hülya Ertas).
Extended Thresholds III: Auxiliary Architectures (Michael Hensel and Defne Sunguroglu Hensel).
Transforming Turkey: Eight Emerging Practices (Hülya Ertas).
To Integrate or Not to Integrate? (Ugur Tanyeli).
Practice Profile (Amanda Levete Architects (AL_A) (Mark Garcia).
Interior Eye Jil Sander Boutique and Derek Lam Boutique, New York City (Jayne Merkel).
Building Profile Raven Row, Spitalfields (David Littlefield).
Unit Factor The EmTech Wave Canopy 2009 (Michael Weinstock).
Spiller's Bits Telling Stories … (Neil Spiller)
Yeang's Eco-Files Designing for Low-Carbon Lifestyles (Mukti Mitchell and Ken Yeang).
McLean's Nuggets (Will McLean).
Userscape Dynamic Light: The Media Facades of realities: united (Valentina Croci).
The Museum is the Exhibit (Jayne Merkel).
Site Lines Library of Birmingham (Howard Watson).