Turtles and Tortoises For Dummies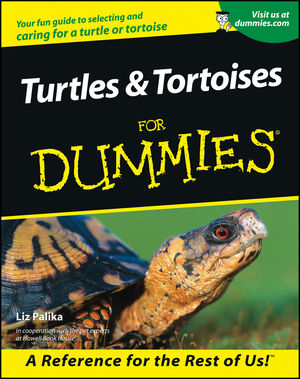 Turtles and Tortoises For Dummies
ISBN: 978-1-118-06944-8 April 2011 320 Pages
Description
Coexisting with a turtle or tortoise may not be a warm and fuzzy experience, but it definitely has its rewards. And with more than 250 species to choose from, you're bound to find one that's right for you. Looks-wise, they can range from very plain and unadorned to a brightly colored and embellished with every manner of crest, crown, spike, and dewlap. As for personality, you'd be amazed at how very different they can be, ranging from shy and withdrawn, to outgoing and friendly, to outright aggressive. And when it comes to longevity, well, let's just say that when you commit to a turtle or tortoise, you're in it for the long haul. For example, the standard American box turtle can live more than 125 years, a leopard tortoise has a life span of up to 100 years, and an aldabran tortoise can live to be more than 200 years old!

This fun guide will help you choose the perfect turtle or tortoise for your lifestyle and give it the care it needs to thrive. Turtle and tortoise expert Liz Palika provides cl ear, step-by-step instructions on how to:
Select the appropriate turtle or tortoise
Provide a suitable environment for your new pal
Care for a variety of chelonian (turtle and tortoise) species
Supply you pet with a satisfying and healthy diet
Create an indoor or outdoor home
Understand your turtle's or tortoise's special needs
Generously illustrated with line drawings and high-quality photographs, Turtles & Tortoises For Dummies covers all the bases. Topics covered include:
Deciding whether a turtle or tortoise is right for you
Choosing between a turtle and tortoise
Who's Who of turtles and tortoises—a complete guide to dozens of species, where they're from, what they're like, and how they are as pets
Creating a safe and healthy environment for your pet
Recognizing and treating common health problems and finding a good veterinarian to help you care for your chelonian
Turtles & Tortoises For Dummies is your fun guide to selecting, caring for, and sharing your life with a chelonian.
Introduction.

PART I: Deciding Whether a Turtle or Tortoise Is Right for You.

Chapter 1: Understanding Chelonians.

Chapter 2: Understanding What Turtle and Tortoise Ownership Requires of You.

Chapter 3: Choosing the Right Turtle or Tortoise for You.

Chapter 4: Finding Your Turtle or Tortoise.

PART II: The Who's Who of Turtles and Tortoises.

Chapter 5: Aquatic Turtles.

Chapter 6: Semi-Aquatic Turtles.

Chapter 7: Semi-Terrestrial and Terrestrial Turtles.

Chapter 8: North American Box Turtles.

Chapter 9: Small Tortoises.

Chapter 10: Medium-Sized to Large Tortoises.

Chapter 11: Really Big Tortoises.

Chapter 12: Special Tortoises.

PART III: Welcome Home! Creating a Safe and Healthy Environment.

Chapter 13: Making a Home for an Aquatic or Semi-Aquatic Turtle.

Chapter 14: Making an Indoor Home for a Terrestrial Turtle or Small Tortoise.

Chapter 15: Keeping a Turtle or Tortoise Outdoors.

Chapter 16: Lighting Up Your Chelonian's World.

Chapter 17: Keeping Your Turtle or Tortoise Warm and Toasty.

Chapter 18: Water: The Magic Liquid.

PART IV: Open Wide! Turtle and Tortoise Health.

Chapter 19: Making Sure Your Pet Eats the Right Things.

Chapter 20: Monitoring Your Turtle's or Tortoise's Health.

Chapter 21: Breeding Your Chelonians.

Chapter 22: Sleeping the Winter Away.

PART V: The Part of Tens.

Chapter 23: Ten Turtles and Tortoises That Make Great Pets.

Chapter 24: Ten Turtles and Tortoises That May Be Difficult to Care For.

Chapter 25: Ten Ways to Keep Your Pet Healthy.

Chapter 26: Ten Common Mistakes to Avoid.

Appendix A: Chelonian Terms and Scientific Names.

Appendix B: Sources of Things Chelonian.

Index.