Twentieth-Century French Philosophy: Key Themes and Thinkers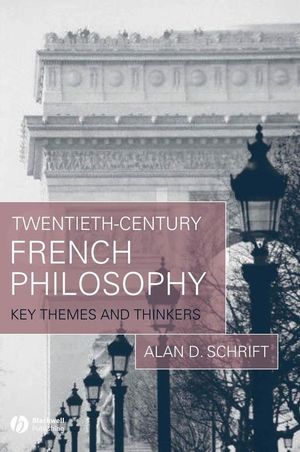 Twentieth-Century French Philosophy: Key Themes and Thinkers
ISBN: 978-1-405-13217-6
Nov 2005, Wiley-Blackwell
328 pages
Description
This unique book addresses trends such as vitalism, neo-Kantianism, existentialism, Marxism and feminism, and provides concise biographies of the influential philosophers who shaped these movements, including entries on over ninety thinkers.

Offers discussion and cross-referencing of ideas and figures

Provides Appendix on the distinctive nature of French academic culture
Preface.
Chronology.
Part I.
1. The Early Decades.
2. Phenomenology on the Way to Existentialism.
3. Existentialism and its Other.
4. Structuralism and the Challenge to Philosophy.
5. After Structuralism.
6. Conclusion.
Part II.
Key Biographies in Brief.
Appendix 1: Understanding French Academic Culture.
Appendix 2: Bibliography of French Philosophy in English Translation.
Works Cited and Consulted.
Index.
"This is a multifaceted work … a stimulating introduction to a rich philosophical era, and it is all the more rewarding due to Schrift's specific focus on the structure of philosophical institutions in France." (
Philosophy In Review
)
"Schrift has written a book that is a gift to both scholars and students. This volume should be a required textbook in every course in Continental philosophy. Highly recommended." (Choice)

"A clear and thorough account … also introduce[s] the reader to some lesser-known influences … .A historical reference work, but is also much more." (Continental Philosophy Review)


Addresses trends such as vitalism, neo-Kantianism, existentialism, Marxism and feminism


Presents concise biographies of the influential philosophers who shaped these movements, including entries on over ninety thinkers.


Offers discussion and cross-referencing of ideas and figures


Provides Appendix on the distinctive nature of French academic culture