Twentieth-Century Sexuality: A History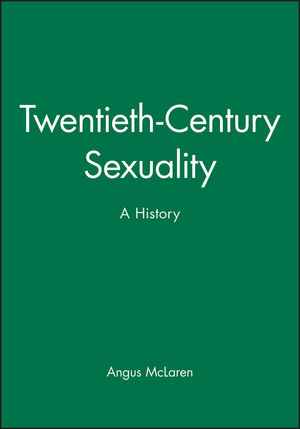 Twentieth-Century Sexuality: A History
ISBN: 978-0-631-20813-6
Sep 1999, Wiley-Blackwell
306 pages
Description
This book provides a fascinating history of sexuality in twentieth-century Europe and North America. Angus McLaren draws upon legal, medical and literary sources to demonstrate how modern sexuality has been shaped by race, class, gender and generational preoccupations.
Buy Both and Save 25%!
Original Price:$123.90
Purchased together:$92.93
save $30.97
Cannot be combined with any other offers.
Acknowledgements.
Introduction.
1. 'The Cult of the Clitoris': Sexual Panics and the First World War.
2. 'Hypersexual Youths': Premarital Sex and the Sex Educators.
3. 'Selfish Beasts': Marriage Manuals and the Eroticization of Marriage.
4. 'Race Suicide': Birth Control, Abortion and Family Stability.
5. 'Perverts': Mannish Women, Effeminate Men and the Sex Doctors.
6. 'Frigidity': Sigmund Freud, Psychoanalysis and Gender.
7. 'Compulsory Heterosexuality': Eugenicists, Fascists and Nazis.
8. 'Surveying Sex': From Alfred C. Kinsey to Hugh Hefner.
9. 'Sexual Revolution?': the Pill, Permissiveness and Politics.
10. 'Backlash': AIDS and the Sexual Counter-revolution.
Conclusion.
Notes.
Index.
"This highly informative text is comprehensive, clearly written, and relies on the most up-to-date scholarship in its field. McLaren's interpretive outlook is unfailingly tolerant and invariably insightful."
Robert A. Nye, Oregon State University
<!--end-->
"McLaren's book is to be highly recommended as a general textbook which illuminates the evolving debates and practices concerned with twentieth-century sexuality. Both undergraduates and professional historians will find it useful as is lays out the evidence and provides copious footnotes to help with further exploration of the topic." History

"A valuable, fluently-written and very well-documented history of sexuality ... a most impressive work." Contemporary British History

"... the book is stuffed full of goodies ... written in McLaren's usual readable style." American Historical Review

"In Twentieth Century Sexuality: A History, Angus McLaren succeeds in accomplishing exactly what his title promises; to provide a history of twentieth century sexuality. And in the process of reaching this ambitious goal, he gives us vast stimulation and food for thought.

"McLaren has therefore written a very important book and one that crackles with insights while being as comprehensive as can be imagined. As such, the work is quite unique." Journal of Social History

"Angus McLaren's ability to provide an overview of as complex a topic as sexuality in the mercurial twentieth-century is truly outstanding. In this book, he summarizes - with wit as well as historical accuracy - many of the key issues that have shaped sexual identity throughout the last century." Medical History

"Writing in clear, well-organized prose, he is mindful of the influences of popular culture and media on sexual attitudes. The book succeeds best as a broad-ranging survey of Western European and Anglo-American attitudes." Publishers Weekly

"Twentieth-Century Sexuality: A History ...seeks to explore its topic in its quintessential complexity." Journal of Family Studies
Argues against those who see the history of modern sexuality as a tale of liberation
Contends that sexuality is socially constructed and is remade by each generation for its own social and cultural context
Draws on interdisciplinary research.