Twenty-First Century Psychotherapies: Contemporary Approaches to Theory and Practice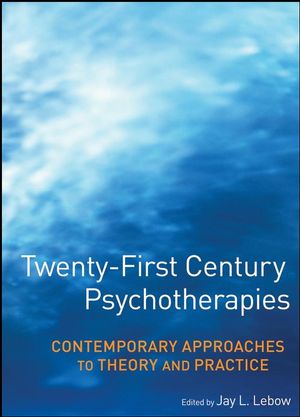 Twenty-First Century Psychotherapies: Contemporary Approaches to Theory and Practice
ISBN: 978-1-118-42931-0 June 2012 528 Pages
Download Product Flyer
Download Product Flyer
Download Product Flyer is to download PDF in new tab. This is a dummy description. Download Product Flyer is to download PDF in new tab. This is a dummy description. Download Product Flyer is to download PDF in new tab. This is a dummy description. Download Product Flyer is to download PDF in new tab. This is a dummy description.
Description
Praise for Twenty-First Century Psychotherapies
"Jay Lebow has done a masterful job in presenting a lucid overview of the leading theories of psychotherapy, strategies of change, and intervention techniques at the forefront of the field. This outstanding volume is a must-read for seasoned clinicians and trainees alike."
—Froma Walsh, Mose & Sylvia Firestone Professor in the School of Social Service Administration, Professor of Psychiatry in the Pritzker School of Medicine, and Codirector of Center for Family Health, The University of Chicago
"This book provides a well-written, up-to-date survey of the theories and practices of psychotherapy that have stood the test of time and seem to be here to stay. A great strength is the chapter authors' inclusion of the evidence for each approach, since Evidence-Based Practice truly is a hallmark of the twenty-first century. This outstanding resource will enable readers to both understand and implement therapy."
—Ronald F. Levant, EdD, ABPP, Dean and Professor of Psychology, University of Akron, and 2005 President, American Psychological Association
"Twenty-First Century Psychotherapies offers a remarkably comprehensive, up-to-date, and scholarly examination of the dominant approaches to therapy. Written by leading and articulate experts in each intervention model, this book draws together the most forward-thinking perspectives in individual, group, and couples/family therapy. This will be a treasured reference to novice and experienced clinicians alike, and I expect it to be a much-consulted companion to professionals for many years to come."
—Nadine J. Kaslow, PhD, ABPP, Professor and Chief Psychologist, Emory University School of Medicine at Grady Health System
Twenty-First Century Psychotherapies provides thorough coverage of the methods of psychotherapy now held in the highest regard, both for the quality of the research evidence behind them and for their effectiveness with a variety of treatment populations and treatment settings.
Table of contents
Contributors List v
Preface vii
Chapter 1 Introduction 1
Jay L. Lebow
Chapter 2 Behavior Therapy 8
Richard E. Zinbarg and James W. Griffith
Chapter 3 Cognitive Therapy 43
Scott H. Kellogg and Jeffrey E. Young
Chapter 4 Experiential Therapy 80
Alberta E. Pos, Leslie S. Greenberg, and Robert Elliott
Chapter 5 Mindfulness- and Acceptance-Based Therapy 123
Ruth A. Baer and Debra B. Huss
Chapter 6 Postmodern/Poststructuralist Therapies 167
Margarita Tarragona
Chapter 7 Psychoanalytic Psychotherapy 206
Jeffrey J. Magnavita
Chapter 8 Existential Psychotherapy 237
Mick Cooper
Chapter 9 Feminist Therapy 277
Laura S. Brown
Chapter 10 Couple and Family Therapy 307
Jay L. Lebow
Chapter 11 Group Therapy 347
Gary M. Burlingame and Debra Theobald McClendon
Chapter 12 Integrative Therapy 389
George Stricker and Jerry Gold
Chapter 13 Technical Eclecticism and Multimodal Therapy 424
Arnold A. Lazarus
Chapter 14 Common Factors in Psychotherapy 453
Jacqueline A. Sparks, Barry L. Duncan, and Scott D. Miller
Author Index 499
Features
Provides coverage of sound, evidence-based treatment approaches held in the highest regard for the research evidence behind them and their efficacy with patients.

Includes the strategies of treatment, methods of intervention, and models of specific approaches to a problem for each approach making it the most practical guide to current psychotherapies.

Jay Lebow is a well-known figure in the field of psychotherapy. Presenting at several major meetings each year. His regular column for the Psychotherapy Networker gives him ready access to and credibility with clinicians and students.