Twitter: Social Communication in the Twitter Age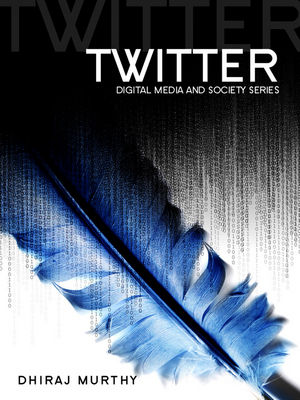 Twitter: Social Communication in the Twitter Age
ISBN: 978-0-745-66510-8 September 2013 Polity 220 Pages
Download Product Flyer
Download Product Flyer
Download Product Flyer is to download PDF in new tab. This is a dummy description. Download Product Flyer is to download PDF in new tab. This is a dummy description. Download Product Flyer is to download PDF in new tab. This is a dummy description. Download Product Flyer is to download PDF in new tab. This is a dummy description.
Description
Twitter has become a household name, discussed both for its role in prominent national elections, natural disasters, and political movements, as well as for what some malign as narcissistic "chatter." This book takes a critical step back from popular discourse and media coverage of Twitter, to present the first balanced, scholarly engagement of this popular medium.
In this timely and comprehensive introduction, Murthy not only discusses Twitter's role in our political, economic, and social lives, but also draws a historical line between the telegraph and Twitter to reflect on changes in social communication over time. The book thoughtfully examines Twitter as an emergent global communications medium and provides a theoretical framework for students, scholars, and tweeters to reflect critically on the impact of Twitter and the contemporary media environment. The book uses case studies including citizen journalism, health, and national disasters to provide empirically rich insights and to help decipher some of the ways in which Twitter and social media more broadly may be shaping contemporary life.
Table of contents
Figures and Tables viii
Preface and Acknowledgments ix
1 What is Twitter? 1
2 Contextualizing Twitter 14
3 Theorizing Twitter 24
4 Twitter and Journalism 51
5 Twitter and Disasters 70
6 Twitter and Activism 92
7 Twitter and Health 115
8 Conclusion 144
Notes 154
Glossary 159
References 162
Index 184
Reviews
Winner of the Choice award for Outstanding Academic Title

"The 200,000 million tweets sent each day have been deserving of serious scholarly attention. Murthy addresses this gap in a pioneering book."
The Global Journal

"A tantalizing, insightful and balanced account of the existing scholarship about the question how Twitter changes our communication practices."
Koen van Turnhout Macro Blog

"For those seeking an introductory approach and who are interested in empirical findings on the four main topics addressed by Murthy, the book offers a start in what will surely become a growing area of investigation for those interested in the sociology of social media."
Information, Communication and Society

"Dhiraj Murthy's Twitter is an excellent overview of the endless spirals of meaning and insignificance that characterize the micro-blogging phenomenon."
Hal Niedzviecki, author of The Peep Diaries: How We're Learning to Love Watching Ourselves and Our Neighbours
"Dhiraj Murthy's Twitter is a rich and informed consideration of one of the most commonly used sites in the US today. Drawing from multiple perspectives and incorporating literature from sociology, communication, political science, and media studies, Murthy's book includes chapters on the role Twitter plays in reshaping journalism, activism practices, disaster coordination, and the sharing of social support and medical information. Notably, the book pays special attention to historical context, drawing out connections between Twitter and earlier technologies, and using these comparisons to illustrate what is new and what is not so new about this fascinating communication platform. Murthy engages with sophisticated analytical frameworks but does so using accessible language and concrete examples, which will make this volume especially useful in the classroom."
Nicole Ellison, Michigan State University
Features
The first scholarly consideration of the phenomenon that is Twitter.
There is a huge amount of scholarly and popular interest in Twitter and this book steps back from the hype to consider its true social, political and communicative import.
The book is anchored around the argument that we live in a time of 'update cultures'.
Uses a broad range of examples, from natural disasters such as the Japanese tsunami, through the site's use in social movements like the events surrounding the Arab Spring, and celebrity usage.