UK Law and Your Rights For Dummies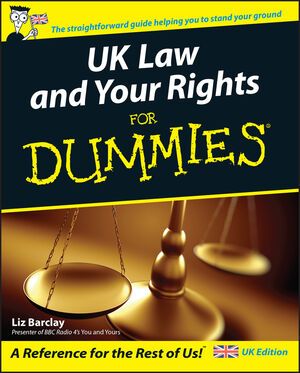 UK Law and Your Rights For Dummies
ISBN: 978-1-119-99784-9
Feb 2011
394 pages
Description
Do you know your legal rights and responsibilities if you're buying or selling a home, moving in with your partner, returning goods, getting your personal finances in order or dealing with a problematic neighbour? There are a multitude of legal rights to protect individuals, and most of us don't consider them until faced with an immediate legal problem. Boost your legal know-how with this simple guide that does away with the jargon and complication of the law, and helps you get a handle on a wide range of everyday legal issues. UK Law and Your Rights For Dummies shows you how to cut through the reams of red tape, avoid legal pitfalls and prepare yourself to deal with any situation.
Introduction.
About This Book.
Conventions Used in This Book.
Foolish Assumptions.
How This Book Is Organised.
Part I: Living with the Legal System.
Chapter 1: Unravelling the Legal Web.
Chapter 2: Living as a Citizen.
Chapter 3: Keeping a Roof Over Your Head.
Chapter 4: Dealing with Neighbours.
Chapter 5: Using Public Services.
Part II: Keeping on the Right Side of Family and Friends.
Chapter 6: Managing Relationships.
Chapter 7: Having Children.
Chapter 8: Passing On.
Part III: Making Enough to Live On – Legally!
Chapter 9: Working for an Employer.
Chapter 10: Being Your Own Boss.
Chapter 11: Managing Without Paid Work.
Chapter 12: Enjoying Retirement.
Part IV: Spending Your Hard-Earned Cash.
Chapter 13: Serious Shopping.
Chapter 14: Paying Someone Else to Do the Work.
Chapter 15: Borrowing Money.
Part V: Getting Out and About.
Chapter 16: Taking to the Highways and Byways.
Chapter 17: Travelling and Taking a Break.
Part VI: The Part of Tens.
Chapter 18: Ten or So Insurance Policies That Can Give You Peace of Mind.
Chapter 19: Ten Ways to Protect Your Rights.
Index.