Ubiquitin and the Chemistry of Life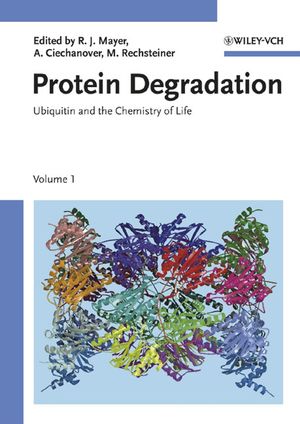 Ubiquitin and the Chemistry of Life
ISBN: 978-3-527-60556-9 March 2006 393 Pages
Description
The first volume in a new series dedicated to protein degradation, this book lays the foundations of targeted protein breakdown via the ubiquitin pathway.
The outstanding importance of the ubiquitin pathway has been recognized with the 2004 Nobel Prize in Chemistry for Aaaron Chiechanover, Avram Hershko, and Irwin Rose. Aaron Ciechanover is one of the editors of this series,
and Avram Hershko has contributed to the opening chapter of the present volume.
Drawing on the the expertise of two Nobel prize winners, this handy reference compiles information on the initial steps of the ubiquitin pathway. Starting out with a broad view of protein degradation and its functions in cellular regulation, it then goes on to examine the molecular mechanisms of ubiquitin conjugation and recycling in detail. All currently known classes of ubiquitin protein ligases are treated here, including latest structural data on these enzymes.
Further volumes in the series cover the function of the proteasome, and the roles of the ubiquitin pathway in regulating key cellular processes, as well as its pathophysiological disease states.
Required reading for molecular biologists, cell biologists and physiologists with an interest in protein degradation.
Brief history of protein degradation and the ubiquitin system (Avram Hershko)
N-terminal ubiquitination: Not such a rare modification anymore (Aaron Ciechanover)
Evolutionary origin of the activation step during ubiquitin dependent protein degration (Hermann Schindelin)
RING fingers and relatives: determination of protein fate (Allan M. Weissman, Kevin L. Lorick, Yien-Che Tsai, Yili Yang)
Ubiquitin conjugation enzymes (Cecile M. Pickart, Michael J. Eddins)
The SCF ubiquitin E3 ligase (Hui Zhang, Leigh A. Higa)
Structural biology of ubiquitin-protein ligases (Ning Zheng, Nikola P. Pavletich)
The deubiquitinating enzymes (Nathaniel S. Russel, Keith Wilkinson)
The 26S proteasome (Martin Rechsteiner)
Molecular machines for protein degradation (Robert Huber, Matthias Bochtler, Michael Groll, Hans Brandstetter, Tim Clausen)
Proteasome regulator, PA700 (19S regulatory particle)(George DeMartino, Cezary Wojcik)
Bioinformatics of ubiquitin domains and their binding partners (Kay Hofmann)
The COP9 signalosome: Its possible role in the ubiquitin system (Wolfgang Dubiel, Dawadschargal Bech-Otschir, Barbara Kapelari).

"This is a worthy reference book to have on your shelf." (The Biochemist, April 2008)