Ullmann's Fibers, 2 Volumes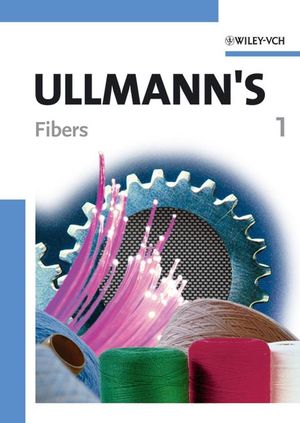 Ullmann's Fibers, 2 Volumes
ISBN: 978-3-527-31772-1 April 2008 899 Pages
Description
Ullmann's Fibers is a convenient source of information for chemists, engineers, material scientists as well as professionals in the textile industry.

Based on the latest online edition of Ullmann's Encyclopedia of Industrial Chemistry, and containing contributions never seen before in print -- e.g. cutting-edge information on nano carbon materials, carbon fibers, and fiber optics -- this ready reference meets the need for a comprehensive survey of the fundamentals, production technologies, and applications of all types of fibers.

Since the entire 40-volume Ullmann's Encyclopedia is inaccessible to many readers -- particularly individuals, smaller companies or institutes -- this handbook condenses all the necessary information. The detailed and meticulously edited articles have been written by renowned experts from industry and academia, with much of the information thoroughly revised. Deeper insights into any given area of interest is offered by referenced contributions, while rapid access to a particular subject is enhanced by both a keyword and author index.

Table of contents
Volume 1
Symbols and Units IX
Conversion Factors XI
Abbreviations XII
Country Codes XVII
Periodic Table of Elements XVIII
Fibers, 1. Survey 3
Fibers, 2. Structure 39
Fibers, 3. General Production Technology 81
Fibers, 4. Synthetic Organic 149
Fibers, 5. Synthetic Inorganic 247
Fibers, 6. Testing and Analysis 315
Cellulose 335
Silk 391
Volume 2
Symbols and Units IX
Conversion Factors XI
Abbreviations XII
Country Codes XVII
Periodic Table of Elements XVIII
Textile Technology 407
Textile Auxiliaries 463
Textile Dyeing 593
Textile Printing 739
Fiber Optics 809
High-Performance Fibers 829
Author Index 857
Subject Index 861
Reviews
"Both volumes should be considered the most comprehensive standard work on fiber and textile technology worldwide." (
Melliand International
, September 2008)
"A recommendable reference work and resource for fibre professionals, scientists, textile engineers and the fibre producing and processing industries." (RFP News, 4 / 2008)