Un/knowing Bodies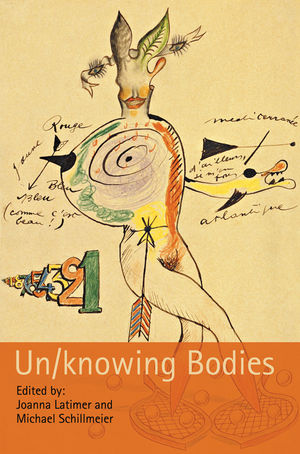 Un/knowing Bodies
ISBN: 978-1-405-19083-1
May 2009, Wiley-Blackwell
272 pages
Product not available for purchase
Description
Leading international authors from across the social science disciplines explore the contemporary re-theorizing of bodies as known, knowing and unknowing.
Presents cutting-edge research on ageing, disability, and biomedicine, together with original philosophical debates about the body and embodiment
Offers exciting and creative approaches to researching disembodiment and to the practice, organization, and conduct of care
Original exploration of contemporary theory and social philosophy on the body
Includes innovative and creative approaches to care and primary research in medicine, genetics, disability, and ageing studies
1. Introduction: body, knowledge, worlds: Joanna Latimer (Cardiff University).
Section I: Opening up the Body.
2. On the art of life: a vitalist reading of medical humanities: Monica Greco (Goldsmiths, University of London).
3. Unsettling bodies: Frida Khalo's portraits and in/dividuality: Joanna Latimer (Cardiff University).
4. Bodily chiasms: Hugo Letiche (University for Humanistics Utrecht).
Section II: Moving Worlds.
5. The body in time: knowing bodies and the 'interruption' of narrative: Rolland Munro and Olga Belova.
6. Telling silences: unspeakable trauma and the unremarkable practices of everyday life: Megan Warin (Durham University) and Simone Dennis (Australian National University).
7. Knowing body, knowing other: cultural materials and intensive care: Paul White (Cardiff University).
Section III: Bodies & Technology.
8. Actor-networks of dementia: Michael Schillmeier (Ludwig-Maximilians University).
9. Washing and assessing: multiple diagnosis and hidden talents: Bernd Kraeftner (University for Applied Arts, Vienna) and Judith Kroell (University of Vienna).
10. Embodying autonomy in a Home Telecare service: Daniel López (Universitat Oberta de Catalunya) and Miquel Domènech (Autonoma University, Barcelona).
Section IV: Absences & Presences.
11. On psychology and embodiment: some methodological experiments: Steven D. Brown (University of Leicester) Paula Reavey (London South Bank University) John Cromby (Loughborough University) David Harper (University of East London) and Katherine Johnson (University of Brighton).
12. Bodily knowing as uncannily canny: clinical and ethical significance: Fiona K. O'Neill (Lancaster University).
13. Beyond caring? Discounting the differently known body: Trudy Rudge (University of Sydney).
14. Embodying loss and the puzzle of existence: Floris Tomasini (University of Central Lancashire).
Index.
"This makes for an exhilarating read . . . However for post-graduates with an interest in the body, sociologists and those whose work involves an academic interest in healthcare this book would provide a rewarding and challenging experience. " (Sociology of Health & Illness, 2010)


Leading international authors from across the social science disciplines explore the contemporary re-theorizing of bodies as known, knowing, and unknowing

Presents cutting-edge research on ageing, disability, and biomedicine, together with original philosophical debates about the body and embodiment

Offers exciting and creative approaches to researching disembodiment and to the practice, organization, and conduct of care

Original exploration of contemporary theory and social philosophy on the body.

Includes innovative and creative approaches to care and primary research in medicine, genetics, disability, and ageing studies