Unconventional Wisdom: Counterintuitive Insights for Family Business Success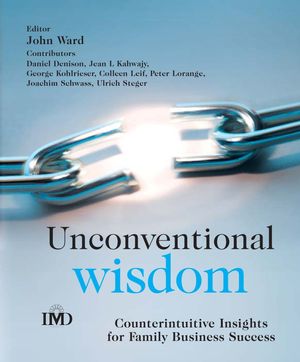 Unconventional Wisdom: Counterintuitive Insights for Family Business Success
ISBN: 978-0-470-02166-8 February 2006 274 Pages
Description
Family businesses prosper by pursuing unconventional strategies. Because they are values-driven and think very long-term, they take approaches not popular with current management fashion or most companies. That is the key to their competitive advantage. However, family businesses must find ways to simultaneously serve business needs and family goals, which require very different priorities and principles. As a result, they must think paradoxically, and find insights that single-purpose enterprises need not contemplate. They must dare to be different. Family business requires a different governance system, but it must nevertheless be one that can be controlled. Building on insights from the worldâ??s premier family business executive education course, this book offers the Unconventional Wisdom needed to leverage the strategic and cultural uniqueness of a family business for enduring success.
Contributors.
Preface.
Acknowledgments.
Chapter 1. The Growth Dilemma in Family-Owned Firms (Peter Lorange).
Chapter 2. Unconventional Strategy: Why Family Firms Outperform (John L. Ward).
Chapter 3. Strategic Planning – It Starts with the Family (John L. Ward).
Chapter 4. How Family Business Culture is Different (Colleen Lief and Daniel Denison).
Chapter 5. Understanding the Successor's Challenges (Joachim Schwass).
Chapter 6. An Effective Successor Development Strategy (Joachim Schwass).
Chapter 7. Resolving Conflict in Family Businesses: Don't Be a Hostage to Family Harmony (George Kohlrieser).
Chapter 8. Effective Family Communications: It's Not What's Said That's Important, But What's Heard (Jean L. Kahwajy).
Chapter 9. The Family Constitution: It's the Process That Counts, Not the Content (John L. Ward).
Chapter 10. Good News for Family Firms: You Don't Need to Worry about the New Rules in Corporate Governance. But… (Ulrich Steger).
Chapter 11. The Value of Hands-On Ownership (John L. Ward).
Chapter 12. Counterintuitive Insights (Colleen Lief and John L. Ward).
Index.
"...this book gets straight to the heart of the matter...a tough-talking, no-nonsense guide to running a family business..." (Management Today, Oct 05)
"...the theory is well balanced, with plenty of practical advice. One to keep on the desk or kitchen table." (Management Today, 11th October 2005)
"...a fresh look at family businesses..." (Business Adviser, Winter 2005)