Understanding Baking: The Art and Science of Baking, 3rd Edition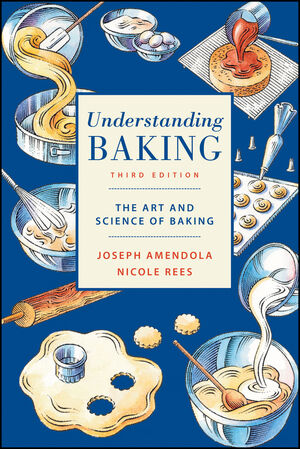 Understanding Baking: The Art and Science of Baking, 3rd Edition
ISBN: 978-0-471-40546-7 September 2002 288 Pages
Description
Before a pastry chef can create, he or she must understand the basic science underlying baking and pastry. The new edition of this invalu-able reference provides this information in a concise and accessible way, guided throughout by contemporary baking and pastry research and practice.
Table of contents
Acknowledgments v
Preface vii
CHAPTER 1 Wheat and Grain Flours 1
CHAPTER 2 Yeast and Chemical Leaveners 33
CHAPTER 3 Sugar and Other Sweeteners 47
CHAPTER 4 Eggs 65
CHAPTER 5 Fats and Oils 77
CHAPTER 6 Milk and Dairy Products 89
CHAPTER 7 Thickeners: Starches, Gelatin, and Gums 101
CHAPTER 8 Chocolate 113
CHAPTER 9 Water 129
CHAPTER 10 Salt 135
CHAPTER 11 The Physics of Heat 141
CHAPTER 12 Bread and Other Yeast-Risen Products 151
CHAPTER 13 Laminates 175
CHAPTER 14 Cake Baking 187
CHAPTER 15 Egg Cookery: Custards, Souffles, Meringues, Buttercream, and Pate a Choux 207
CHAPTER 16 Pies and Tarts 223
CHAPTER 17 Cookies 237
CHAPTER 18 Sugar Syrups and Candymaking 247
Appendix 259
High-Altitude Baking 259
Metric Conversions and Other Helpful Information 260
Weight-Volume Equivalents for Common Ingredients 262
Bibliography 267
Index 273
New To This Edition
90% New Content. Brings food science to the pastry chef in a way that is concise and informative.
Strong New Author. Written by a contributor to Chocolatier and Pastry Art and Design, this book will remain concise but will be guided by contemporary baking and pastry research and practice.
Features
Essential reference for the growing number of pastry chefs and home bakers.
Provides a solid understanding of baking and pastry fundamentals - substantial enough for a beginner to work from and reliable enough for the seasoned professional to use as a reference and troubleshooting guide.