Understanding Balance Sheets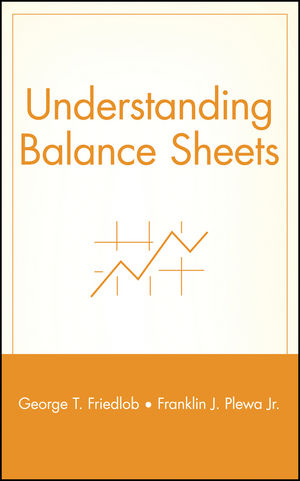 Understanding Balance Sheets
ISBN: 978-0-471-13075-8 May 1996 278 Pages
Description
As statements of a company's financial condition, balance sheetscontain information vital to owners, investors, and financialmanagers who are charged with assessing company performance. Oftencomplex and difficult to interpret, balance sheets are nonethelessessential because they help pinpoint business problem areas.Understanding Balance Sheets explains in a clear and concise mannerall the major aspects of this important business tool, making ityours to implement easily and successfully.

Written by two financial and accounting authorities, this hands-onworking reference enables you to understand a company's balancesheet within the context of its annual report. You'll find detailedinformation on:
* Exactly what a balance sheet is, how it works, and how it's usedto increase profitability
* The individual components: receivables, cash, inventory,long-lived assets, current payables, long-term debt, and equity
* How these different elements relate to each other, how they comeinto being, and how they should be controlled in your business
* How accounting data is created, accumulated, and used in thedevelopment of financial statements

Whether you're new to balance sheets, need a quick refresher, orrequire a knowledge that goes beyond the basics, this guide has itall. Understanding Balance Sheets is a thorough, accessiblereference that you can't afford to be without if you need to get ahandle on this essential financial tool.

Get a handle on balance sheets with this comprehensive referencethat gives you the basics and beyond

From the authors who brought you indispensable guides to suchfinancial fundamentals as cash flow, income statements, and returnon investment comes a book that clarifies and explains theintricacies of another important tool: the balance sheet. Coveringall its major aspects, Friedlob and Plewa give you a broadunderstanding of its individual elements, the related disclosurescontained in an annual report, and the methods used to analyze acompany's balance sheet. Here's where to turn for valuableinformation on:
* Receivables, inventories, intangibles, short-term investments,and other components of a balance sheet
* How current liabilities create spontaneous financing when abusiness grows
* General purpose financial statements and widely acceptedaccounting principles
* The time value of money
* Analyzing the balance sheet through comparative and ratioanalysis

Straightforward, comprehensive, and easy to follow, this is theguide you'll want for a complete overview of this vital businesstool.
Accounting and the Balance Sheet.

Understanding the Balance Sheet.

Basic Accounting Principles.

Current Assets: Cash and Short-Term Investments.

Current Assets: Receivables and Prepaids.

Valuing Inventories.

Noncurrent Assets: Investments.

Noncurrent Assets: Long-Lived Productive Assets.

Noncurrent Assets: Natural Resources.

Noncurrent Assets: Intangibles.

Other Noncurrent Assets.

Current Liabilities and Spontaneous Financing.

The Time Value of Money.

Noncurrent Notes and Mortgage Liabilities.

Bond Liabilities.

Stockholders' Equity.

Disclosure, Footnotes, and the Audit Opinion.

Financial Leverage.

Operating Leverage.

Ratio Analysis.

Index.