Understanding Children's Development, 6th Edition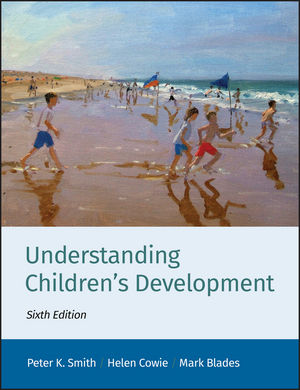 Understanding Children's Development, 6th Edition
ISBN: 978-1-119-02503-0 August 2015 736 Pages
Download Product Flyer
Download Product Flyer
Download Product Flyer is to download PDF in new tab. This is a dummy description. Download Product Flyer is to download PDF in new tab. This is a dummy description. Download Product Flyer is to download PDF in new tab. This is a dummy description. Download Product Flyer is to download PDF in new tab. This is a dummy description.
Description
Understanding Children's Development is the UK's best-selling developmental psychology textbook and has been widely acclaimed for its international coverage and rigorous research-based approach. 
This dynamic text emphasizes the practical and applied implications of developmental research.  It begins by introducing the ways in which psychologists study developmental processes before going on to consider all major aspects of development from conception through to adolescence.
Table of contents
Preface to Sixth Edition xxi
Acknowledgements xxv
PART I THEORIES AND METHODS 1
Chapter 1 Studying Development 3
Chapter 2 Biological and Cultural Theories of Development 31
PART II PRENATAL DEVELOPMENT AND BIRTH 77
Chapter 3 Prenatal Development and Birth 79
PART III T HE SOCIAL WORLD OF THE CHILD 105
Chapter 4 Parents and Families 107
Chapter 5 Siblings and the Peer Group 161
Chapter 6 Developing Emotional Intelligence and Social Awareness 199
Chapter 7 Play 233
Chapter 8 Children and Media 265
Chapter 9 Helping Others and Moral Development 297
Chapter 10 Social Dominance, Aggression and Bullying 339
PART IV CHILDREN'S DEVELOPING MINDS 377
Chapter 11 Perception 379
Chapter 12 Language 405
Chapter 13 Cognition: Piaget's Theory 443
Chapter 14 Cognition: The Information Processing Approach 471
Chapter 15 Children's Understanding of Mind 513
Chapter 16 Learning in a Social Context 545
Chapter 17 Intelligence and Attainment 579
Chapter 18 Deprivation and Enrichment: Risk and Resilience 605
PART V ADOLESCENCE 643
Chapter 19 Adolescence 645
References (Visit the website to download the references - www.wiley.com/college/smith)
Index 693
New To This Edition
The new 6th edition has increased coverage in many areas, including ethics; children's rights; participatory research methods; three models of human plasticity; breastfeeding and cognitive development; fostering; non-resident or absent fathers; parenting styles in China; effects of domestic violence on children; physical punishment, and child maltreatment; the development and fostering of emotional intelligence; homophobic bullying and cyberbullying; and developing intercultural competence through education.
There are entirely new sections on immigration, acculturation, and friendships in multicultural settings; disruptive behaviour and oppositional defiant disorder; sexting; and adolescent bedtimes.
The Adolescence chapter has been extensively revised, covering work on the social brain, insights from neuroscience, evolutionary perspectives on risk-taking and peer relationships, romantic development, and use of mobile phones and the internet.
Features
The 6th edition of a bestselling, widely acclaimed textbook
Extensive international coverage and a rigorous research-based approach.
Each chapter provides lucid discussion of the material, enlivened by the inclusion of revealing case studies, real world examples, 'Stop and Think' boxes, and ideas for classroom debate.