Understanding Chinese Society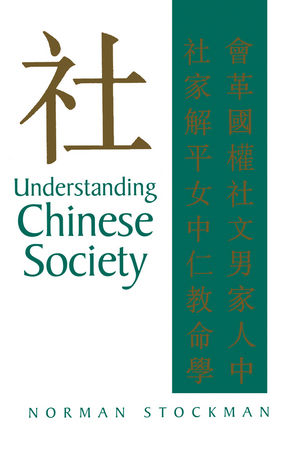 Understanding Chinese Society
ISBN: 978-0-745-66866-6 July 2013 Polity 280 Pages
Description
This new book provides an accessible and wide-ranging introduction to the main features of Chinese society. Drawing on a wealth of material, the author offers a fresh understanding of a unique society that has undergone continuous transformation and upheaval throughout the twentieth century.
Understanding Chinese Society looks in all its richness at the society with the largest population on earth. In order to explore long-term change and continuity, the book examines China from pre-revolutionary times to today's rapidly modernising society, although the focus is on recent change. Particular attention is paid to China's cultural traditions and hierarchical relationships in familial and wider social settings, and their fate in the modern world. Successive chapters investigate changes in the relations of rural and urban sectors of society; in the structure of families; in political and economic power; in cultural hegemony, education and the media; and in patterns of social inequality. A final chapter asks whether Chinese society is becoming more complex and differentiated in the course of modernisation and considers recent debates on the growth of civil society and democratisation.

This book will be indispensable for anyone studying Chinese society, Asian societies and comparative sociology.
Table of contents
Acknowledgements vi
Note on Romanization and Names ix
1 The Study of Chinese Society 1
2 Which China? Whose China? 23
3 Rural and Urban in China 45
4 Individual and Society in China 69
5 Chinese Family: Continuity and Change 94
6 Power and Revolution: Economic and Political 120
7 Power and Revolution: Cultural 149
8 Changing Patterns of Social Inequality 177
9 The Differentiation of Chinese Society 203
Notes 228
Glossary of Chinese Terms 236
Bibliography 239
Index 264
Reviews
"Stockman examines the world's most populous nation beginning with pre-revolutionary times, and turns his focus on today's rapidly modernizing society. Especial attention is paid to the fate of cultural traditions in the industrial and post-industrial world."
Reference and Research Book News
<!--end-->
"Textbooks on China are readily available, but this book makes its mark by integrating sociological theories with the investigation of social change in China ... Stockman has an ability to combine various works into a coherent discussion of a specific topic ... The issues Stockman addresses will be ones that interest students in Western universities." The China Journal

"A book for readers who may not have a detailed and complex understanding of Chinese history." Political Studies

"Norman Stockman's book fills the gap between undergraduate sociology textbooks, which pay little attention to China, and a specialist research literature on China, which is often inaccessible to students." Times Higher Education Supplement

"A valuable base work offering important background information for any further research and more detailed study of contemporary Chinese society. Moreover, for all its analytical and theoretical import, Understanding Chinese Society never loses its accessibility. Though intended primarily for sociology students, it in fact can also be a useful reference book for any student studying modern and/or contemporary Chinese politics" History Now

"This is a book that one can recommend to students with the certainty that they will not be led astray by it in any important respect." Times Higher Education Supplement
Features
A comprehensive and accessible textbook exploring all the main features of Chinese society
Integrates an impressive range of work with new research material in a way that throws new light on China's rapidly changing society
A wide-ranging analysis covering the major features of Chinese society, including: the rural and the urban; family structures; military, political and economic power; cultural hegemony, education and the media; and patterns of social inequality.