Understanding Companies and Markets: A Strategic Approach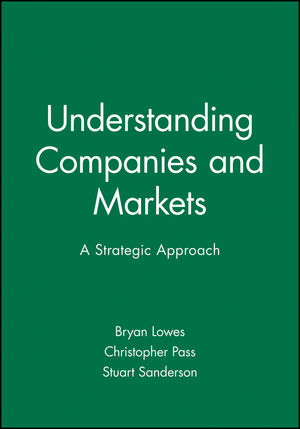 Understanding Companies and Markets: A Strategic Approach
ISBN: 978-0-631-19099-8 September 1994 Wiley-Blackwell 320 Pages
Description
This path-breaking new textbook brings together the two key areas of business policy and industrial economics to provide students with a powerful new framework for understanding the factors which influence a firm's choice of strategy and the market consequences of these strategic choices.
An ideal text for students of business strategy and industrial economics. A lecturer's manual is available free of charge to adopters.
Table of contents
Introduction. 1. Business Strategy: An Overview. 2. Industrial Economics: An Overview. 3. Company Objectives. 4. Company Management and Organisation. 5. Horizontal Expansion. 6. Vertical Expansion. 7. Conglomerate Expansion. 8. A Framework for Analyzing Markets and Competitiveness. 9. Costs. 10. Prices. 11. Product Differentiation. 12. Market Entry and Exit. 13. Multinational Companies. 14. Market Performance and Public Policy. Index.
What's New
* To aid student learning there are boxed examples throughout the text. In addition, there are a number of examination type questions at the end of each chapter.
* One of the first texts to integrate industrial economics and business strategy into one volume. This reflects the growing teaching trend in both disciplines where it is recognized that business students require a knowledge of basic economic theory and economics students require a knowledge of basic corporate strategy.