Understanding Cultural Globalization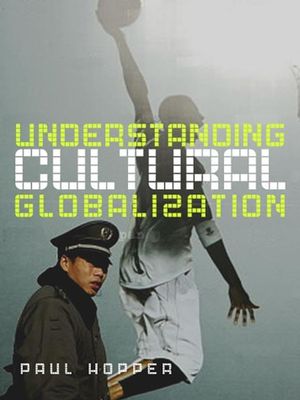 Understanding Cultural Globalization
ISBN: 978-0-745-63557-6 December 2007 Polity 240 Pages
Description
Understanding Cultural Globalization
is a comprehensive and highly accessible introduction to the critical debates surrounding cultural globalization.
Paul Hopper leads the reader through the varied issues associated with globalization and culture, including deterritorialization, cosmopolitanism, cultural hybridization and homogenization, as well as claims that aspects of globalization are provoking cultural resistance. In exploring the cultural dynamics of globalization, the book investigates the interrelationship between globalization and culture, seeking in the process to problematize both concepts.
Completely up to date and drawing on a rich range of empirical and theoretical examples, Understanding Cultural Globalization will be key reading for all students of culture, media and globalization.
Table of contents
Introduction: Approaching Cultural Globalization.
1. The Histories of Cultural Globalization.
2. Travelling Cultures.
3. Global Communication, Media and Technology.
4. Globalization and Global Culture.
5. Globalization and National Culture.
6. Globalization and Cultural Conflict.
7. Globalization and Cosmopolitanism.
Conclusion: Cultural Globalizations
Reviews
"Immensely well suited to undergraduate readership in Britain."
Sociological Review
"Hopper provides an accessible and informed introduction to cultural globalization and the critical debates surrounding it."
European Journal of Communication

"Hopper's book should be required reading for anyone wishing to see globalization's "big picture". While many books have been written about globalization, almost all of them give culture short shrift and focus on more easily quantifiable matters such as economics and demographics. Understanding Cultural Globalization fills a most important gap in the literature on globalization. It will provide readers with a sophisticated and nuanced view of the complex phenomena that underlie globalization."
Steve Jones, University of Illinois
"Paul Hopper proposes a differentiating and interdisciplinary approach to understanding cultural globalization. This book is an accessible, informative, clear and student-friendly introduction to the breadth of literature and a range of different debates and topics in cultural globalization studies."
Luke Martell, University of Sussex
"Paul Hopper's book is to be welcomed. It offers students a valuable, balanced introduction and a clear pathway through the often complexly overlapping arguments and perspectives covered by the idea of cultural globalization."
John Tomlinson, Nottingham Trent University
Features


Comprehensive new textbook examining the relationship between culture and globalization

Designed and written to fill a textbook gap at second/third year undergraduate level

Accessibly written with strong use of contemporary examples and features such as further reading

Debunks all the key concepts, such as deterritorialization, cosmopolitanism, cultural hybridization and homogenization, as well as claims that aspects of globalization are provoking cultural resistance