Understanding DNA and Gene Cloning: A Guide for the Curious, 4th Edition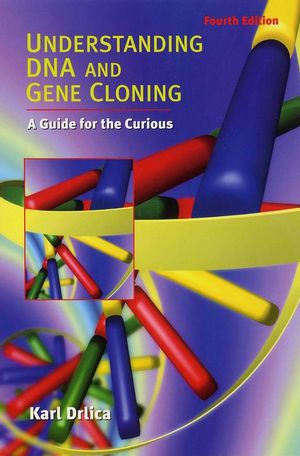 Understanding DNA and Gene Cloning: A Guide for the Curious, 4th Edition
ISBN: 978-0-471-43416-0
Apr 2003
369 pages
Description
Do you realize how much impact DNA technology has on your life today? Registering your child's DNA with the police, bold new medical cures, the perfect tomato, gene cloning and DNA manipulation are no longer remote events that will have impact in your life - they are today's headlines! In this highly acclaimed guide, Karl Drlica fully explains the basis of the ongoing genetic revolution. He guides you through the science and technology you need to understand the issues and make informed decisions. This text can be used either as a main text in a course where instructors want to use a thematic, case study approach to biology, a non-majors genes or genomics course, or as a supplement for Introductory Biology.
Chapter 1. Preview: Life as Interacting Molecules.
PART I. BASIC MOLECULAR GENETICS.
Chapter 2. Structure of DNA: Two Long, Interwound Chains.
Chapter 3. Reproducing DNA: Information Transfer from One Generation to the Next.
Chapter 4. Gene Expression: Cellular Use of Genetic Information.
PART II. MANIPULATION DNA.
Chapter 5. Microbial Growth: One-celled Organisms as Tools for Gene Cloning.
Chapter 6. Plasmids and Phages: Submicroscopic Parasites Used to Deliver Genes to Cells.
Chapter 7. Cutting and Joining DNA: Restriction Endonucleases and Ligases Used to Restructure DNA Molecules.
Chapter 8. Using Complementary Base Pairing: Hybridization, Probes, and Amplification using PCR.
Chapter 9. Cloning Genes: Isolation of a Hemoglobin Gene.
Chapter 10. Using Cloned Genes: Gene Structure, Expression Vectors, and Gene Function.
PART III. MODERN MOLECULAR GENETICS.
Chapter 11. Beyond the Central Dogma: A Sampling of Insights Derived from Gene Cloning.
Chapter 12. Retroviruses: AIDS and Gene Delivery.
Chapter 13. Cancer Genes: The Loss of Growth Control.
PART IV: HUMAN GENETICS.
Chapter 14. Heredity: Pattern of Inheritance and Genetic Instability.
Chapter 15. Application of Human Genetics: Genetic Testing, Gene Therapy, and DNA Fingerprinting.
PART V. WHOLE GENOMES.
Chapter 16. Genomics: Using Whole Genomes to Study Life.
Additional Reading.
Glossary.
Abbreviations.
Index.
New chapter on human genetics.
New and updated discussion of genomes and genomics. This reflects its growth and importance in the study of life, just as genetics and biochemistry are important.
Basic understanding of molecular biology and recombinant DNA technology so students can make informed decisions involving these topics.
Technical terms are kept to a minimum, and when they are introduced they are accompanied by a definition. Chemical processes and molecular structures are described by means of analogies using terms familiar to non-scientists.
Retains successful elements to aid in student learning such as "Questions for Discussion" found at the end of chapters and in the glossary at the end of the book.