Understanding Development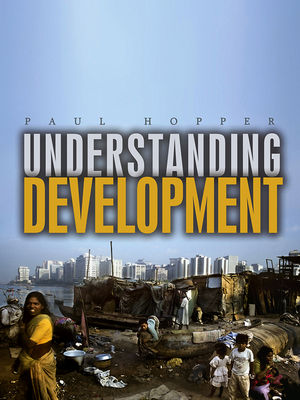 Understanding Development
ISBN: 978-0-745-69908-0
Jun 2015, Polity
304 pages
Description
Understanding Development is the ideal introduction to the major issues and critical debates about development in the contemporary world. Perfectly suited to students, it offers an accessible overview of the key topics that have come to define this crucial subject. Drawing on a wide range of case studies from across the globe, the book explores such areas as:
health and population growth
conflict and security
global inequality and poverty
fair trade and trade liberalization
gender and education
foreign aid and debt
sustainability and the environment
This issues-driven text has been designed to offer something different to the standard introductions to the topic, focusing on the debates that have generated the most interest and passion among practitioners and non-practitioners alike. Always attentive to the contested and plural nature of the field, it makes the case for a genuinely interdisciplinary approach which takes full account of the impact of globalization. Both comprehensive and critical, Understanding Development is the essential guide to one of the most challenging subjects of our age.
Acknowledgements
Acronyms and Abbreviations
List of Boxes
List of Figures
Introduction: Understanding development
1. Theorizing development
2. Approaching development
3. Health, education and population
4. Gender and development
5. Conflict, security and development
6. Trade and development
7. Participation and representation in development
8. Financing development: foreign aid and debt
9. Sustainable development
10. Globalization and development
Conclusion: Development - future trajectories
References and Bibliography
Index
"An academic book that does not read like one. It introduces a key concept of global affairs to the non-expert reader in a jargon-free and complete fashion."
Global Journal
"A key resource for all undergraduate students in geography, sociology and politics."
Global Built Environment Review
"An excellent resource for teachers of A-level World Development. It outlines the academic understandings behind a range of development issues in an accessible way, and provides a thorough, formal and conceptual background to much of the A level specification. To date it is the best academic text of its kind at this level of study for World Development."

Gill Miller, Chief Examiner, A-level World Development 
"Finally an introductory text that provides in-depth critical analysis of the concepts and practice of development without closing the possibilities of emancipatory change.
Understanding Development
delivers on the promise of an issue driven text that engages students in contemporary cases without forgoing solid historical and theoretical rigour."
Duncan McDuie-Ra, University of New South Wales
"Covers the literature on a wide range of development topics succinctly and effectively."
Richard Peet, Clark University
"Essential reading for anyone wishing to understand the intersection of development, globalization and politics in the contemporary world. Engagingly written, it provides an interdisciplinary perspective on a comprehensive set of vital themes, from poverty to international security, drawing upon up-to-date information and a range of academic and policy materials."
Gareth Jones, London School of Economics
"An excellent, up to date book that examines the contemporary debates surrounding development. It's a must read for any student of studying sociology, human geography, politics and development studies."
Jamie Halsall, University of Huddersfield
A major new textbook introducing students to the key issues and debates about development in the contemporary world.
Examines the central topics such as global inequality and poverty, population growth, sustainability, conflict and security, gender, foreign aid, debt, education, health, world trade, globalization and the environment.
Designed as a beginner textbook, it draws on a wide range case studies from countries and regions throughout the world.
Accessible and comprehensive, this book surpasses conventional introductory works on development by being firmly issues-driven.
An ideal introduction for students coming to the topic for the first time.