Understanding Emotions, 2nd Edition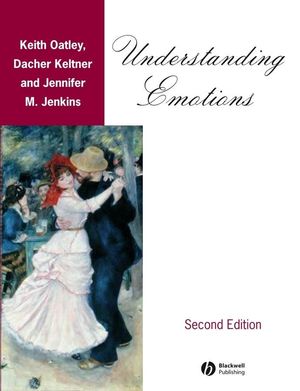 Understanding Emotions, 2nd Edition
ISBN: 978-0-470-62053-3 June 2012 Wiley-Blackwell 536 Pages
Description
Keith Oatley and Jennifer M. Jenkins's best-selling book on the psychology of emotions is the most highly regarded and engaging text for the emotions course. While retaining its interdisciplinary breadth, historical insights, and engaging format, this new edition adds the expertise of outstanding researcher and dedicated teacher Dacher Keltner. The second edition has been thoroughly updated to reflect the latest research and developments in emotions and includes the following features:



Cohesive synthesis of evolutionary and cultural approaches to emotion

New chapters on communication of emotion, bodily changes, and appraisal

Increased emphasis on interpersonal implications of emotions, including studies of newly discovered expressions and systems of communication

New coverage on moral judgment, individual differences, gene-environment interactions, and positive emotions

New coverage of subjective well-being and pro-social emotions like gratitude and compassion

Updated references throughout reflect current research and data, including research on affective neuroscience

A new design and pedagogical features include new integrated boxes that depict historical landmarks and historical figures, updated tables, boldfaced terms, and end-of-chapter summaries.
An Instructor's Manual with lecture notes and teaching tips is available upon request. Please visit www.blackwellpublishing.com/oatley.
Figures.
Tables.
Preface.
Acknowledgments.
Part I: Perspectives on Emotion:.
1. Approaches to Understanding Emotions.
2. Evolution of Emotions.
3. Cultural Understandings of Emotions.
Part II: Elements of emotion:.
4. The Communication of Emotion.
5. Bodily Changes and Emotion.
6. Brain Mechanisms of Emotion.
7. Appraisal, Knowledge, and Experience.
Part III: Emotions and Social Life:.
8. Development of Emotions in Childhood.
9. Emotions in Social Relationships.
10. Emotion and Cognition.
Part IV: Emotions and the Individual:.
11. Individual Differences and Personality.
12. Emotion and Mental Health in Childhood.
13. Emotions and Mental Health in Adulthood.
14. Psychotherapy, Consciousness, and Well-being.
Glossary.
References.
Subject Index.
Author Index.
"This new edition is as delightful and informative as its predecessor. It includes the important advancements in research made over the past 10 years, and carries the clear fruits of its enlarged authorship."
Nico Frijda, University of Amsterdam
"Understanding Emotions provides an admirable theoretical integration of empirical research and, at the same time, makes emotion research relevant to our everyday lives. It is the perfect book for both undergraduate and graduate-level courses on emotion." Batja Mesquita, Wake Forest University


offers a coherent and logical sequence in a revised and updated new edition


emphasizes the value of emotions and explores the latest research with practical concern for clinical problems, education and everyday understanding

extends across a broad range of disciplines and covers the entire lifespan from infancy to adulthood

includes sections on the study of emotion, the different elements of emotion, evidence of how emotions govern and organize social life, and emotion and individual functioning, including psychological disorder and well being

changes include: an earlier discussion of what is an emotion, combined chapters on evolutionary and cultural approaches, studies of new expressions (love, desire), as well as new systems of communication (touch, music), new findings on emotion and the central nervous system, and recent studies on the role of emotion in moral judgment