Understanding Emotions, 3rd Edition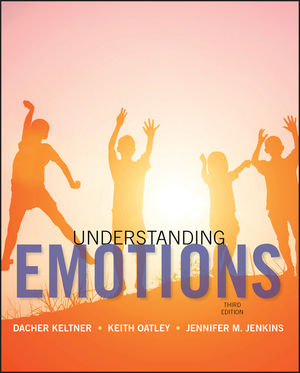 Understanding Emotions, 3rd Edition
ISBN: 978-1-118-54905-6 January 2013 520 Pages
Description
Dacher Keltner, Keith Oatley, and Jennifer Jenkins's Understanding Emotions, 3rd Edition emphasizes the value of emotions and explores the latest research with practical concerns for clinical problems, education and everyday understanding. The text extends across a broad range of disciplines and covers the entire lifespan from infancy to adulthood. It includes sections on the study of emotion, the different elements of emotion, evidence of how emotions govern and organize social life, and emotion and individual functioning, including psychological disorders and wellbeing.
Furthermore, the text offers combined chapters on evolutionary and cultural approaches, studies of new expressions (love, desire) as well as new systems of communication (touch, music), findings on emotion and the central nervous systems, and studies on the role of emotion in moral judgment. Discussions of how popular and classical movies emphasize emotions show how to keep an emotion diary to track one's emotions and interactions. The text includes boxes on emotional intelligence and how to improve it as well as scales of assessing the self. Boxes on emotions in art and literature and positive psychology boxes are also new editions to this issue.
Part I: Perspectives on Emotion:
Chapter 1: Approaches to Understanding Emotions
Chapter 2: Evolution of Emotions
Chapter 3: Cultural Understandings of Emotions
Part II: Elements of emotion:
Chapter 4: Communication of Emotions
Chapter 5: Bodily Changes and Emotions
Chapter 6: Brain Mechanisms and Emotion
Chapter 7: Appraisal, Knowledge, Experience
Part III: Emotions and Social Life:
Chapter 8: Development of Emotions in Childhood
Chapter 9: Emotions in Social Relationships
Chapter 10: Emotion and Cognition
Part IV: Emotions and the Individual:
Chapter 11: Individual Differences in Emotionality
Chapter 12: Emotion-based Disorders of Childhood
Chapter 13: Mental Disorder and Well-being in Adulthood
Chapter 14: Consciousness, Regulation, Psychotherapy
Updated references throughout, including recent research and data in psychology, psychiatry, the social sciences, and the humanities, as well as in neuroscience.
Increased emphasis on the interpersonal and social functions of emotions, with stimulating discussions of how emotions work between people in different kinds of relationships.
New discussions of contemporary research on evolution, and on genes in interaction with the environment, and the neuroscience of social rejection, empathy, pleasure, and caregiving.
New sections on: Social and Anti-social Motivations, Emotions and Morality, Law and Emotions, Consciousness, Emotion Regulation (including a discussion of free will), Well-being, and the physiology of the stress response.
Four kinds of boxes have been included, featuring Significant Figures (in understanding emotions), Individual Emotions, Novels and Films, and Reflection and Cultivation. 
End-of-chapter Summaries are now accompanied by Suggestions to Think About and Discuss.
offers a coherent and logical sequence in a revised and updated new edition
emphasizes the value of emotions and explores the latest research with practical concern for clinical problems, education and everyday understanding 
extends across a broad range of disciplines and covers the entire lifespan from infancy to adulthood 
includes sections on the study of emotion, the different elements of emotion, evidence of how emotions govern and organize social life, and emotion and individual functioning, including psychological disorder and well being